Susannah Woychik's Letters - 1 - 1869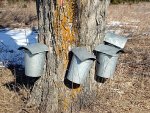 Sun, 15 Feb 2015
Burnside, Trempealeau County, Wisconsin
May 1, 1869
Poppelaukreise Oppein, Oberseliesien.
Dear Aunt Susanna and Uncle Leopold,
Thank you for your letter. I am pleased that you got my diary, and found it useful. And although I will not do as you wish and write another one, I will send you a letter from time to time, telling you how we are getting on and answering any questions you have if I am able.
You say that you probably will come next year at this time - and that we should look out some land near ours for you. It doesn't work like that. There are so many people coming all the time, and the land is getting grabbed up right and left. If Pa hadn't homesteaded when he did, we probably would not have got our place. But closer to the time, we will try to find out whether somebody maybe is failing to make their payment - a lot of people lose their homesteads that way - because they have to promise to pay for it in full after a calendar year - and if they then spend all their money on animals and machinery - they have nothing left for that big payment. Luckily, we have been saving a bit out of Pa's salary from Uncle Simon, and then again from his logging money, so we nearly have enough. And we are saving to pay you back too.
Pa said to ask you this. We can pre-buy tickets here for you - and then you don't have to worry about paying for them there. What we borrowed from you should pay for two of your tickets. I know your children are coming too, so they would have to be paid by you. Let me know, will you, so if you want us to send the prepaid tickets rather than the money, we can get on and find out how to do that.
You know I mentioned in my diary that I thought Michael and Agatha Sabotta were expecting again. Well their daughter arrived recently. They have called her Anna.
Now, let me bring you up to date on what has happened around here since the last time I wrote in my diary - which must have been just after Christmas.
Pa worked for the Eau Claire Lumber Company and managed to get enough money to buy a horse and cart. He thought about buying oxen - but Uncle Simon says why don't they go shares and they can plow both fields together, and then when they need supplies, whichever one can use the horse and cart to pick them up. It seems a good arrangement.
Anyway, the horse is left at Uncle Simon's because he has a barn - and he seems to get along okay with the oxen. We have some new animals too. We got a dozen chickens and a couple of baby pigs. This time we will hopefully keep them over the winter, using Uncle Simon's barn - and have baby pigs of our own next year. And we will give you one when you come, just like Mr. Sura gave us one when we came and had nothing.
We weren't really hungry over the winter. The wild birds and fish are in such a good supply and Pa loves hunting and fishing. And we grew enough potatoes, rutabagas, carrots, onions and beets to keep up in vegetables. And our sauerkraut went down a treat too, along with the beans and peas that we canned. Can you get Mason jars there by now? You remember I mentioned them in my diary. They are so good - and this year, we only have to buy the new lids - the rest just gets reused.
We have a shop close by now - finally - and boy, is it handy. The man who runs it is called Michael Fugina. He is from Austria - and is in his late 20's. He's very friendly and tries to get in whatever we say we want or need. He came to the United States in 1861 and located at Fountain City, Wisconsin, which isn't far from here on the river. In 1863, he enlisted in Co. H, 6th Wisconsin Infantry, Iron Brigade, under General Bragg and was present at General Lee's surrender at Appomatox. There are quite a few Polishers (as they call us) from around here who served in the Civil War.
New City, which is what they call the new shopping area, began when Elliot J. Carpenter arrived, and erected a dam and a mill on Traverse Creek and also opened up a store. He was followed by Mr. Fugina who opened a store and a saloon. Henry Gibson opened a small store and was appointed postmaster. Peter Eichman opened a tavern and saloon. Mr. Fancher has a blacksmith shop there.
I am sort of walking out with Hyacinth Kulig - you might remember him from home. He is saving his money up to buy land - but he says he wants a lot of land, and he wants a good house, so he needs a load of money. I've no doubt he will do well. He and his brother plan to homestead next year, but we can't get married straight away anyhow, as I'm still only 16.
You probably know that the Pampuches came over this year. Well, they have the strip of land right next to Uncle Simon. Their daughter Julia is about my age, and we get along really well. It is nice to have a friend from back home who is so near by here.
You asked about how we made maple syrup. We had such a good time. Each of us kids had a bucket and Pa bought us the spiles (metal tubes with a sharp end) to put into the tree. John took the bit and brace, and bored the holes for us, and between us we got enough sap in just one day to make  a pint of syrup.
I will write out how we did it, so when you come, you will know and can do it too. We had to find out by asking the neighbors. You have to do it when the maple trees are just in bud. But the trees must be at least 45 inches around at 3 feet up, and not have defects in the trunk. We did ours on March 30.
The holes in the trees go in about 1 1/2 to 3 inches, slanting somewhat upwards and then the spile is pushed gently into the tree. The bucket has a hole in it, so it can fit right onto the spile too, and the syrup goes in easily. We had to put a cover on the buckets to keep the rain or any other bits out. We were lucky that we had picked a good day. Sometimes you have to wait a couple of days to get a bucketful. We heard that each tap hole should get between 6 and 10 gallons of sap, but being new at it, we just collected the one bucketful each.
On the average, it takes 40 gallons of sap to produce a gallon of finished syrup. Since we only had five gallons of sap, we were aiming for only about a pint.
Moma said we had to cook it over an open fire outside, as the steam from the sap would make everything sticky, and we put our container on a tripod over an open fire. The sap had to boil hard in the biggest saucepan we had to get rid of the water, and then we had to keep topping it up as the water boiled off. But you can't let the liquid get lower than 1½ inches in the bottom of the pan or it might scorch. It took us about eight hours of cooking and topping up, so it is not an easy job. Luckily Moma was willing to help as the boys got quickly bored of it. You had to keep an eye on it, because when it boils it foams up and sometimes you get a scum on it, which needs to be taken off. And you need to stir every ten minutes or so.
You do the cold water test to see when it is ready, just like you do when you're making jam or candy. Put a drop of syrup in cold water to see if the right thickness is reached. It wants to stick together in the water, rather than dissolving. If it cooks beyond this, and gets to the soft ball stage, you will produce maple sugar, or maple fudge, rather than maple syrup. Which of course can still be used, but in different ways.
Then we managed to fill and seal a small Mason jar with syrup and that left a ¼ of a cup that we used on pancakes that we made that day for supper
We've got the land broken for both some crops to be planted for us, and a larger amount for Uncle Simon. The slow part is getting rid of the trees - as this land is just covered with them. You can plow between the stumps, but even so, the whole farming process will work much better when they are gone - but that has to be a low priority just now.
Moma and I have planted the garden and so far things seem to be coming up okay. We hope we have as good weather as we did last year. But you can never tell about that sort of thing.
John has finished with school. He managed to take the leaver's certificate - so he has some sort of qualification. But he wants to spend his time helping Pa and Uncle Simon and Cousin Philip with farming. But Thomas will have another two years of school, and little Carl will start next year.
I best sign off as this letter is quite full, but I will write again soon. And you must write and ask any questions you have about what life here is like.
Oh, they are planning on building a Catholic church here soon - so I'll be able to tell you more about that in my next letter. It will be so nice not to have to travel so far, and, of course, in the worst of the winter we had to miss Mass completely.
Moma and Pa and the boys send their best regards.
Ever, your niece,
Susanna
Poppelaukreise Oppein, Oberseliesien.
September 25, 1869
Burnside, Trempealeau County, Wisconsin
Dear Susanna,
Thank you for your letter, and I am pleased that you received mine in such good time.
We do remember Hyacinth Kulig  and our congratulations go to you both. I remember him as being a very nice boy, and very ambitious.
I think if it is all right with you, you should have your Pa send me a money order for the money I lent him, and then we will buy the tickets here. We will be quite a group from Poppelau. leaving at the same time, at least five families and several single men.
I am anxious to hear more about the arrangements for a church as I would not like to be so far away that I couldn't get to Mass regularly. You said in your diary that you sent me  that now you meet at Peter Sura's house with all of the Catholic families – how many of you are there now? And does the priest give the sermon in Polish? I would hate to not understand it and my English is very basic at the moment.
I am worried about wild animals coming into your house that you mentioned once before. Did you ever have any snakes? I am very frightened of them and would not like to have to find one had crawled in during the night while we were asleep.
We are starting to collect together the things you have said that we shall need. Can you think of anything else? Can you get feather beds there? We think we will try to get onto the same ship as you had, if we can. Tell me more about what we might need to bring for the farming.
Is all that business with the slaves over and done with now? Do you have colored people living in your area?
All the best to your Moma and Pa and the boys and we hope you have a good Christmas if I don't write again before that.
Love,
Aunt Susanna