Susannah Woychik's Letters -6 - 1876-7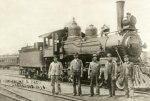 Fri, 20 Feb 2015
Independence, Trempealeau, Wisconsin
November 10, 1876
PoppelaukreiseOppein, Oberseliesien.
Dear Aunt Julie,
We are now in our new home, as of July this year. It is much smarter and bigger and made of planks rather than logs.
I thought I should tell you more about our new town, Independence, and the excitement that went with all of it. You might remember that I told you about the area where we always went to the shops, called New City. Well they wanted the main part of the new town to be located there, but people were having nothing of it. That is because it is reputed to possess  not single redeeming feature in its character for wantonness and disorder. Its name was a synonym for all that was vile, and the frequenters of the place as familiar with guile and cunning. In short, they were very bad men, and people weren't prepared to have as their main town, a place with such a bad reputation
Plots were offered for sale in the market, and quite a large number were bought. Mr. J.C. Taylor has erected a drug store at the corner of Main and Railroad streets; Mr. Edward Elstad, a general store on Washington Street, and Mr. David Garlick a home on Adams Street which he runs as the post office and a store. (Just as an aside, I was chatting to Miss Emma Leacher, who helps at the post office and she told me her salary was $9 a month while Joseph Garlick gets $100 per month). Mrs. Philip Lambert who is David Garlick's daughter also serves in the a grocery store and post office with the rear quarters of the residence. Mr. Walters who had been a tavern-keeper at New City, came hither to Independence, and opened "Green Bay House" which works as a hotel and eatery as well as a tavern. North of that he erected a large structure, with rooms for a saloon, and a store on the first floor, and with a public hall on the second floor. This hall serves as the social center of Independence with meetings and dances and parties held there
They reckon the population of Independence must be about 400. That doesn't really count the farmers like us who live in the outlying areas. But it includes the 40 homes built in this last year, and lots of those houses contain boarders, as not everybody can afford to have a house of their own. Arcadia has about 1000, so it's still a lot bigger.
I know that you know Gregor and Rosalya Holama who came here in 75. They joined his brother, Carl Holama who moved here in 1870. Their farm is approximately a mile and a half north of Independence. Thomas Holama moved to Minnesota this year, selling his land back to his father. I probably will be writing to Roselya, who is married to Sam Suchla, you know. Her mother would dearly love to have them move here too, if Sam can be convinced that it's worthwhile.
It was voted to have a nine month school term (rather than six as it is at the moment) and to raise the sum of $315 for teacher's salary, $25 to purchase school furniture, $25 for fuel, $90 for rent of a school room and $45 for contingencies.
The school board was authorized to rent a room for school purposes and to admit nonresident school pupils during the school year as they deemed proper. I should mention about schools. The first class washeld on the second floor of Taylor's hall, (the drug store) Washington and First Streets. Mary L. Wright was the first teacher employed in the new district for this year. My younger brothers, Carl and Paul, go to that school now. She is assisted by Laura J. Bell
I have to tell you a funny story that I heard from my cousin Julia's husband, Michael. When his sister-in-law started teaching in Arcadia, she came from Eau Claire by train. She got on the Green Bay train at Merrillan, and after it stopped at Alma Center, it backed up all the way to Merrillan. The conductor informed the curious passengers that one passenger had missed the train at Merrillan, and on orders telegraphed to Alma Center, the train had to go back and pick him up. The conductor said that since there would be no Sunday train, they couldn't very well let him sit there until Monday. Wasn't that nice?
You asked whether you can still take the stage coach if you don't want to use the train. Well, yes, but they certainly have been harmed by the train coming through, so there are far fewer coaches and they come through much less frequently. And this particular bit of the train journey from Green Bay to Trempealeau is one of the most picturesque trips in the State - so lots of people go for a ride, and sit with their heads half out the windows - just enjoying the trip for its sake alone. It crosses the Trempealeau River 15 times as it goes across the county. But having said that, the train didn't run at all for two months after the big flood - as so many bridges and bits of track had been damaged.
There's a story told by Mrs. Hattie Beach, from Whitehall. She and a friend were on the train, and her friend stuck her head out a window and lost her hat. The engineer stopped the train, backed up, and retrieved the hat. The railway men who sit behind the coal firing engines all day long and through the quiet hours of the night have their own way of keeping in touch with the folks along their run. They whistle a salute to a wife or sweetheart, sometimes to the extreme irritation of less romantic neighbors. When they first started, the engineers and other trainmen stepped off the train into the crowd shaking hands and answering questions.
But lots of people don't like the way it scares the horses and cows and care has to be taken to prevent a stampede.
Here's a copy of a letter in our local paper.
Dear Sir,
I got 22 cows what I chase every morning and every night over your railroad tracks here in Northport. Up until two weeks ago everything is fine, no trains is coming in the morning at 8 A.M. when we drive our cows over the crossing. Then last Thursday comes a little pip squeak of a train with maybe six empty box cars going like a bat out of hell he comes at just 8 A.M. This I think is maybe a special so I hold my cows from crossing. Now day before yesterday comes the same dam train with those six empty box cars and I just get my 22 cows over the tracks when he comes barreling through. What I want to know is who is this guy the railroad president's son, so they give him his own little train to play with or some stupid conductor what forgets to take these box cars along on the regular run. I would appreciate very much if you would tell this hot shot engineer to kindly take another cup coffee in the morning so he should get here later than 8 A.M. and not maybe make hamburger out of my Holsteins. Either that or he should stop at the Northport crossing and look both ways to see if any thing is coming what looks like cows. You can tell the people from the cows because the cows got a smarter look. You got a pretty nice little railroad and I don't want to make you no trouble so you tell these guys they should send this little train through at maybe noon huh?
Okay and thank you very much,
I am Yours Truly,
John Krasne, New London, Wis
I know you don't know those people that I talked about – except those from Poppelau, but when you come, you will get to know them all.
Best wishes,
Susanna
Independence, Trempealeau, Wisconsin
June 6, 1877
Schalkowitz,Oppein, Oberseliesien.
Dear Anna,
I am writing to tell you that your brother John has arrived safely with us, and we think he will fit in very well with our family. My husband, Uncle Hyacinth, has said that he has a first class brain and the natural ability of a born farmer. He does miss you very much. I will try to get him to write to you later. Around here, I am the letter writer, and as I enjoy doing it, I will probably keep writing to you.
You never met me of course, because we left Poppelau before you were born - when I was 14, in 1868. My brothers were much younger, and Paul was only two when we came - and we are cousins. Your father, John, and my father, Frank, and his brother Simon were brothers. I was so sorry to hear about your father and step-mother both dying so close together like that a few years ago.
I hope you are managing to get to school. I think you must be 8, Anna. Do you ever see your sister Elizabeth or other brother Thomas? I have lost track of what happened to him.
I expect you heard from your brother, John, before he left all about what he was getting himself in for by coming here. But he had an even harder journey than most. On the train from Quebec to Chicago, they had a train crash. He wasn't hurt, but it delayed everything for several extra days and no doubt was very upsetting for everyone.
Did he tell you that we have a young son, also called John. Because we want to avoid confusion, we decided that your brother we will call JA, which stands of course for his full name, John Alexander. I don't think he was very happy about it at first, but I told him that lots of successful men go by their initials rather than names, so that cheered him up a bit.
He is a good looking boy and very much reminds me of your father.
We have just heard that our school teacher here, Mr. Hans Austin is giving it up to run a hotel which no doubt will get him more money. He is also going to be our Constable. He is a Norwegian. I don't know if your brother will be going to school next fall or not, assuming we have a new teacher, but it is too late for him to go for the few weeks left this year. He says he is very keen to learn English so I am helping him with that.
If you have time, perhaps you can drop me a line. If not, I will write to you, or get JA to do so, at least every once in awhile.
We had an early spring this year so were able to get the planting done in good time. But now we have had some rain and even a bit of snow, so I hope the crops will be all right.
You might like to know that we have our own Catholic Church here and now we even have a parsonage, erected opposite the church, costing $1,500.
Love,
Your cousin Susanna
Independence, Trempealeau, Wisconsin
September 10, 1877
PoppelaukreiseOppein, Oberseliesien.
Dear Rosalya and Sam,
I am writing to you, at the request of both Mrs. Holama and John Suchla, as they wish me to urge you to emigrate to Wisconsin with the rest of us. I will try to tell you a bit about how things are going here, and you can write and ask me any questions about it.
And of course, Sam's sister Anna, and her husband Johann Jellen live in Arcadia too. Another reason for wanting to be close by. I understand that his mother Marie Jellen is thinking of coming.
You may have read some of the letters I have sent in the past to people from Poppelau, so I won't repeat all that I told about the place already. Except to say that we now have a thriving new community here, and our name has changed to Independence. And we have a new mill erected this year, which is very modern. Mr. A. Newton calls it the Independence Mill, and at an expense of $22,000, it is as complete in their mechanical and other arrangements as skill or money can render them. It is the first flour and grist mill around here to run by water power. The building is of frame, four stories high, compact and substantial in all its features. It is supplied with five run of stone, and possesses capacity to turn out 100 barrels of flour per day. His brother, Mr. S.M. Newton erected a dam to create a head of water sufficient to provide power. The pond that was created by the dam is called Bugle Lake.
We also have a second bridge over Elk Creek built this year. This one is a narrow wooden structure but it is useful to have the two.
You will be pleased to know that we now have our own doctors here - Doctor WR Ellison is here permanently, and Doctors Lewis and Brant of Arcadia have a branch office.
Not only that, but we now have two hotels. Mr. J.W. McKay erected the first on Washington and Third. He calls it Tremont House. I don't know why. Ira Smith built the second, the Merchants Hotel and J.W. Runkel started a furniture store and mortuary. Mr. Eugene Webster has a livery stable on Second Street and there is another one next to the Hotel.
As far as prices go, wheat sells for $1 bushel, corn,75 cents, oats, 50 cents, rye, 60 cents, potatoes, $1 a bushel, and beans $2.50 a bushel. I take my garden produce to the market once a week in Arcadia to sell. Beans and peas sold in the pod get 60 cents a peck. Green corn sells for 12.5 cents per dozen ears - new potatoes $2.00 bushel and strawberries 25 cents a quart.
If you have any questions, please feel free to ask me.
Best wishes from Susanna Kulig