Earth as a Peppercorn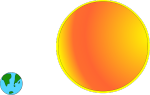 Tue, 01 Oct 2019
Somebody made a model of
Earth as a peppercorn.
Mars is a pinhead,
Neptune is a coffee bean.
What does any of it matter
When the fields out there
Are so barren after the winter harvest and
I am here in the lavatory
Hiding from my children?
They want me to be an aeroplane,
A pirate, an astronaut, any
Number of things I can scarcely
Comprehend. Eventually
It's fine because I tell myself it's fine,
And although the peppercorn
Lies on the kitchen table
Unappreciated, I resolve to
Show them how long it takes
To find the sun, to walk them out
Across the flat and empty fields
Of this world, so intolerably small.