Jekys and Twinkies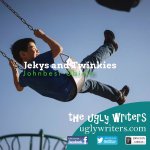 Sun, 25 Feb 2018
What food do you like?
Jerkys and twinkies
Doesn't look great, 
But taste is appealing. 
Best taken with tea
Or honey from bees. 
Causes no allegy, 
It's cholesterol free. 
Pleasant to the mind, 
It may not be of your type. 
Why not give it a try:
Later you'll be gratified. 
Show me your best... 
I show you my taste.
Give me a fried steak;
I give you jerkys and twinkies.