Soft Play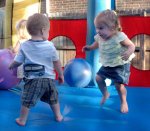 Mon, 25 Aug 2014
5 likes
Zerex watched his kids play happily, violently with the styrofoam blocks and bendy swords, the punchbag hung from the roof of the padded plastic fort in Sir Rompalot's Soft Play centre. He sank deeper into the faux-leather sofa, one leg — like a Tolstoyan count, he liked to think — thrown carelessly over the other. He glanced around at the other parents, lounging on the couches and armchairs dotting the walls, chasing after toddlers in stocking feet with almost convincing glee. His gaze — tipsy with unaccustomed idleness — alighted on the mothers. Slim, bourgeois women in their thirties and early forties, the baggy garments of their After-Baby bodies (A. B. — end of a pagan era, dawn of a monotheistic age) tucked in tight by Yoga and Pilates, their hair shining with chemical health. It occurred to him that at that moment he would rather be producing children than looking after them. Inappropriate scenes began to project themselves onto the IKEA furniture. Especially the smooth brown cushion beside him, now occupied by a lithe young mum with a ballerina's back and a grey cashmere jumper that clung cruelly to her breasts.
How differently, he mused, the afternoon would pass in the alternate universe of his pornographic mind. How unlike the real hours of reconciling rows and distracting tantrums, of being dragged to his feet to be a Daddy Monster (nothing says 'great with kids' like a rip-roaring monster), playing hopeless hide and sightless seek, being coerced into buying sugary drinks — you know, water's actually the best thing if you're thirsty — watching his little darlings frolic and feud with Brand New Friends until he finally cajoled them, after half an hour of One More Minutes into the double pushchair and home to his wife (whose 'time to herself' had been spent washing clothes and picking up toys).
His daughter clubbed his son on the head with a plastic skittle. His son burst into tears, retaliated with a foam banana.
Zerex was jaded — nauseated, like Jean-Paul Sartre, he liked to think. The world outside the fireside circle of his family and friends had nothing to offer him but disappointment, repetition, an endless reiteration of his inadequacies. The only adventures he could still have were inside his head. It soothed him to think of that soft, synthetic world where he was king — a wise, benevolent, kind-hearted king. A real smile crossed his hairy, big-nosed face – the photographic negative of the grin he employed when children or wife demanded his daydreaming attention.
Imagination. The original soft play.
Soft play — the contextual combustion of those two words! The critical mass of association, two lumps of cognitive Plutonium so casually — sensually — touched together. Soft: a woman's breast taken in to a hungry male mouth, female buttocks quivering to the beat of masculine hips. Play: ecstatic games of skin on skin, arpeggios of lips, fingers, tongues and glands.
He realised — the horror! — that his soft play was in danger of becoming hard. What if his children came and fetched him, pulling at his fingers until he stood up — Daddy monster! Daddy monster! — what would his couch companion think of him then, trousered prow jutting forwards at the level of her subtly beautified eye? 
And his wife? She glared from his mind's eye, exhausted, unable to believe his infantile self-regard.
It was okay. He could uncross his legs now.