Me, Dad and Ali. ( Part 5)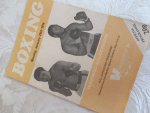 Thu, 09 Jun 2016
"For as long as I can remember he was always there in the background."
I heard him say the words but they didn't really sink in.
He sat down at the kitchen table.
"Look, the fight's in New York. Obviously we can't go to New York and even if we could we'd never be able to afford the price of the tickets. But, there's this new thing. Certain Cinemas around the country are going to show it live in the early hours of the morning. I've checked it out and East Ham Odeon is one of them. Tickets go on sale in a few days' time. We're going!"
To me, that was just as good as going to New York. I didn't know what to say. It seemed unreal. We were going to see Ali fight LIVE. Not just any old fight, but THE fight. Ali v Frazier 2.
I don't know how I got through the next few weeks but somehow I managed it. By the time my Birthday came I'd already left school and started full time in the Butchers shop learning the trade. My boss, Roy, enrolled me on a one day a week course at Butchery College in Smithfield.
Dad spent thirty-five pounds on two tickets for the fight. This was more than his weekly wage and I can only imagine what he and mum must have sacrificed to get them.
Fight day, and my birthday, was a Monday. That was my college day and I finished in London around 3pm. On the way home I stopped off at a record shop where my mate worked.  I always asked him to save me any new Soul albums that were released. That day there were three. Bobby Womack, Blue Magic and Love Unlimited Orchestra. I was indoors by 4.30pm and I knew I had two hours before dad came home. Enough time to play the new albums in my bedroom and get ready for the night ahead. Headphones on, eyes shut and singing at the top of my voice! The next thing I knew mum was shaking me and saying dinner was ready. Dad was now home and we sat at the kitchen table for the next three hours discussing the fight. My Birthday tea (and dad's) was a massive piece of Rump steak and two eggs. Mum called it a dinner for Champions!
East Ham Odeon opened its doors at midnight and guess who were first in the queue.
Even though it was a non-title fight it was a sell-out. There was an undercard but to be honest no one was really watching it. Everyone just wanted to see the main event.
My boss from the Butchers shop, Roy, decided he wanted to come along and he bought a ticket from a tout outside. He was supposed to be seated a few rows behind us but he was the sort of bloke that you didn't argue with and instead got someone to move and took a seat next to me. No booze was allowed in the Cinema but Roy came in with a 2 litre bottle of Coke under his coat. Half of it was Bacardi!
Dad was no drinker but I decided it would be good of me to help Roy out by drinking as much as I could. It all added to the excitement.
Finally, everyone took their seats and we waited for the fighters to appear. There were a few cheers for Frazier but the place erupted as Ali stepped into the ring.  He looked like a giant. He was four inches taller than Frazier and half a stone heavier. His reach was an impressive eighty-two inches, almost ten more than Frazier's.  He was awesome.
And then it began.
Wow, Ali had completely changed his style of fighting. This was no quick jab and move around the ring. He threw a flurry of punches then grabbed Frazier around the head with one arm and held him tight in a clinch with the other. There was no way Frazier could punch him from close range. He won the first round. In round two he did the same and just before the bell caught Frazier with a great right hand. Everyone stood up thinking Frazier might just go down. But he didn't and Ali won that round as well. His new style wasn't pretty but it was working and Frazier was getting frustrated.
Me and dad were scoring every round on our programme. At the end of round six I asked dad what he thought.
"Four to Ali, one to Frazier and one even."
I agreed. Exactly the same as me.
The second half of the fight saw Frazier win a few more rounds but when the final bell came we both had Ali in front. It was close but I had him winning it by two rounds while dad thought only one.
When the announcement came the referee held up Ali's hand. He'd won it by a unanimous decision.
We left the stadium about 5am. I was exhausted and slightly drunk. But wow, what a night. Roy let me have the Tuesday morning off and I slept till midday. Dad didn't, he had a few cups of tea then went to work.
It was all I could talk about for weeks after. When people asked me what I did for my birthday I would go on and on about the fight telling them every detail. I must have bored the pants off everyone. But it wasn't just me. Dad was the same. We'd talk about it over tea most nights and discuss what Ali had to do to beat the "beast" George Foreman.
Both of us wanted Ali to get his title back, but we also realised that he would up against the meanest fighter on the planet who just happened to have the hardest punch in boxing. Ali had beaten Frazier on points, Foreman had literally destroyed him in two rounds.
Without really saying it, we were both worried that he could be seriously hurt. It was a fight that he couldn't win. Or could he?