WASTE.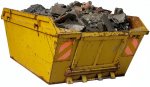 Tue, 22 Nov 2016
It's difficult to say how it happens. It just does. You work hard, have a successful business, earn good money and suddenly you get a reputation. I call myself a no nonsense business man. Other people call me something else.
When I was growing up back in the eighties, my Dad worked in Demolition. He was foreman at one of the big firms and was in charge of his own gang. Every night he would come home covered in dust and muck, he didn't care, he'd just laugh and say "There's good money to be made in waste."
I always remembered his words, so when I was eighteen, with a little help from the family, I bought my first skip lorry. Dad made sure that my skip was on every site he was in charge of and was never empty. On a good day I would take that skip away five times and empty it somewhere. I could earn as much as £100 per load.
I didn't go out and get pissed like my other mates. I worked seven days a week. It wasn't long before I had enough to buy another skip lorry. By the time I was 25 I had twelve.
BLUNDELL Skips were well known in the area. I had Lorries running up and down the A13 from dawn till dusk.
It didn't take me long to work out that collecting waste was easy. Getting rid of it was the problem and THAT was where the real money was.
There were landfill sites all over Essex but their fees were expensive. They were also slightly too far away from where I was picking up in Central London. My drivers were wasting too much time travelling between loads. So I decided to look for land. Somewhere on the borders of London and Essex.
It wasn't long before I heard about a fishing lake for sale out near Chigwell. The business was losing money and the owner was in serious debt due to a nasty gambling habit. It was green belt land so no chance of development. He couldn't afford to re-stock the lake because he was skint so people stopped fishing there. It was 5 acres of useless land. I did him a deal. I paid off his gambling debt in exchange for the lake. It cost me thirty five grand.
No prizes for guessing what I did with it. Yep I filled it up with waste. I figured I'd just keep dumping waste there until someone told me to stop. No one did, well not for 5 years, but by that time it was too late. Not only did I tip my waste there. I charged other companies a fee to dump theirs too.
In 5 years that thirty five grand had made me over three million.
I didn't care what people dumped there as long as they paid me. If they dumped it and didn't pay then I tracked them down and made sure I got my money.
I remember one little firm dumping ten loads a day for a whole month, then giving me a cheque that bounced. I found out where the owner lived and one Sunday morning drove a skip lorry down his driveway writing off both his nice flash cars and demolishing his kids newly built Wendy house. The next day I escorted him to the bank and he paid the bill in cash.
We never had any trouble with payment from anyone after that.
I never did go to Court because of the "Lake Business".  The local Council threatened me with all sorts of things but my defence was that no one ever told us we couldn't dump waste there and why did it take the Council 5 years to discover it. They knew that if we went to Court they would come out looking negligent.
So we struck a deal. I'm going to flatten the ground down, cover it in topsoil and then grass it over. They'll pay for it of course, but it's still my land. We have a "Gentleman's" agreement that it will eventually become a Country Park. But, guess what? I'm no Gentleman. As I said earlier, I'm a no nonsense business man. I'm gonna turn it into a Golf Course.
People pay a fortune to play Golf In Chigwell...