Jaspernon The Prince: The Rise of the Cult of the Goddess: Ch.3 : Part 3 Patience, the Concubine, and the King (Section 1)
Image: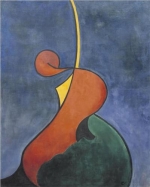 Thu, 15 Oct 2020
Ch.3 : Part 3 : Patience, the Concubine, and the King
   "Share me with Riala Patience. What do you say?" asked Prince Jaspernon.
   "In what way Prince?"
   "I mean both of you sharing me," explained Jaspernon. "I will take you in turn, but I will seek to give you both pleasure at the same time, to occupy you both. Riala would lick your cunnie too I am sure, if you were to want her to. She is physically attracted to you Patience. Riala likes women as well as men, particularly one as beautiful as you. She has told me that if you were ever willing she would enjoy making love to you."
    "Is she really interested in women?" asked Patience. "I have seen her with you and Alix and she seems to love cocks."
    "Oh yes, I have seen her with a couple of serving women, and she likes female flesh very much, although I would say she loves cocks more and has a bigger appetite for them."
   "Has she been talking to you about this?"
   "Of course. What do you think Patience? Would you be interested in trying some female love with a beauty like Riala?"
   "I do think she is beautiful, but I have never even thought about doing anything sexual with a woman."
   "What about your Priestesses? Do you ever feel a sexual desire for them?"
   The High Priestess seemed to be considering these issues for the first time. Jaspernon wondered at her complete innocence, as if she had never even thought these thoughts before, as if she had never even realised that a woman could lie with another woman. Her innocence made her all the more attractive to him. She was completely innocent, but not in a pathetic way. She was pristine and unspoiled, perfectly beautiful in every way. She was a strong woman, as her leadership of the Cult showed, but she was wide eyed and fresh when it came to matters of sexuality. He was finding that having thrown out the restrictions of the tradition of her Cult she now had a very open mind. She searched inside herself, perhaps talking to her Goddess for the truth of her feelings.
    "I have never even been aware that a woman may find another beautiful or want to touch her. But I find that subliminally I have wanted to share touch and closeness with some women. I don't think I felt as interested as in men but perhaps there is something there. Riala has been in my dreams. I think I told you about it. In my dream she showed me how I might suck your cock, and how to ride you. She is very beautiful and she is present in my dreams when I make love to men. Maybe I should consider trying this just to see what it could feel like, to see what it means, to find out what I am?"
   "Think about what I have suggested," said the Prince. "There is no pressure at all Patience. It may be that you admire Riala's beauty, but you may not wish to touch her closely, or may only wish to share me or Alix with her."
   As he said this the High Priestess could feel inside that she was curious. As he said, it may be that she would not want to lie closely with the concubine, but she certainly wished to perform more sexual acts in her presence. The excitement of making love to Alixerand and the Prince had been greater because of Riala's presence, as observer and fellow adventurer. She knew that she wanted the thrill of breaking the old rules. The Goddess approved, and her belief and dedication to the Goddess actually gave her the freedom to explore her natural feelings fully. The Goddess gave her the freedom to share the love of the Goddess with others, even with women if she chose. All she said for now was, "I will consider this Jaspernon. Certainly I wish to continue my explorations. I think the Goddess wants me to."
   "Tonight," said the Prince, "I suggest you and Riala will take me in turn. You think about how far you wish to go with Riala, or just do what seems natural tonight. You can stroke each other or not, or you can go further and lick each other's cunts. You know Riala can be quite persuasive, and she can also be very forward, but she will not go further than you allow."
   Patience had a feeling that she would allow some level of exploration to take place but she was not sure how far she would go. One thing was certain. She knew Riala was likely to push the barriers if, as the Prince said, she truly wished to explore her.
   "Alright then my Prince, the three of us will combine tonight and I will consider how far I wish to go with Riala. We shall see what transpires between us. One thing is completely certain. Your cock will be very well used." She smiled broadly and so did he, relishing the moment. Both of them looked at each other as if they might begin immediately, but both held back because they knew the evening would be far more exciting if they came to it fresh with the beauty Riala.
   Evening came soon enough. The Prince had princely duties to perform for his father and Patience went out to visit Priests and Priestesses at the main hospice, and to deliver words of instruction to new Priests and Priestesses at the City Temple.
    At the allotted time the Prince ascended the stair with the glowing concubine Riala, who wore a yellow and red dress, which accentuated her smooth bronzed flesh. He knocked upon the door of the High Priestess' room, and she opened it wearing her purple High Priestess' robe. Together the three mounted the tower staircase for one more flight, to the locked room of paintings. The Prince unlocked the door and invited his ladies towards the double bed he had recently installed here. He took care to lock the door behind them this time although it was not always a concern of his. He did not particularly wish a visit from his father the King or any Palace servants, all of which would be unlikely here anyway.
     As ever Riala was the first to begin to undress. "Can you help High Priestess," she smiled cheekily.
    "Of course Riala," The Priestess's gentle hands unfastened the buttons on the back of Riala's colourful dress. "It's a lovely dress."
     "Indeed you look fantastic in it," said the Prince, drooling over her luscious body, as it was revealed. "Don't you think Patience?"
     "Yes, you look beautiful in it, I can certainly say." She smiled to be giving such open compliments to another woman, but it was not difficult to compliment Riala as she was so beautiful.
     "Maybe you two will actually show what you think of each other's beauty later," said the Prince cheekily, "or perhaps not, as you will. But first what about me?" He began to unbutton his tunic. As soon as Patience had helped Riala out of her dress and she was naked, they both turned their attention to helping the Prince out of the rest of his clothes. Riala was swiftly onto his cock, feeling it, putting her mouth to its head, and encouraging it to grow.
    "Ah, she's lovely, isn't she?" declared the Prince openly.
    "Yes she is," agreed Patience, although she wanted a piece of the Prince's cock too at this moment.
   "You have some," said Riala, as if reading her mind. "Come suck it with me!"
    Swiftly the High Priestess threw off her robe and joined them both in nakedness. This sharing was new. Excitement rushed inside her as she bowed her head and placed herself up close to the concubine so she could feel her breath, while she brought her lips to the Prince's enlarged cock. As Riala had shown her first in the dream she licked it and took it fully in her mouth, but this time Riala competed with her to lick it at the same time. Some of Riala's licks landed on her own lips and face. She did not shy away, as she might have done. The concubine was absolutely beautiful,and fresh. There was no need to keep her away. She could have the male and the female here. Their sex could be one without remorse or shame. Together they shared his cock, frequently tasting each other as they did so. They began quickly to taste precum on the Prince's cock, and Patience wondered whether it would explode even before they could feel it inside them. Luckily he continued, but surely it was time for one of them to have him before he spurted.
   "Who's going to let me have them?" said the Prince, urgently.
   "Take the High Priestess first," said Riala, "she's ready too. Lie on your back Patience, on the bed."
    She did so, and quickly the Prince was upon her, pushing her legs wide, and sticking his engorged cock deep into her. She was already wet, despite no fingers having yet been there. Quickly he had his urgent way with her, fucking her hard while the concubine lay next to her, and began to massage her arm and chest. The Prince too sampled her breasts and enjoyed the sight of her while he performed upon her. Riala was at her side. Her wet mouth began to kiss Patience's face, her tongue, flickering out. "Kiss me Patience, kiss me!" Patience turned her face at Riala's demand and let the concubine kiss her fully, licking and lightly biting, chewing her face in a most pleasant and sexual way, while the Prince stirred the feelings in her loins by fucking her. She was coming towards an orgasm, and the Prince's bursts of energy pushed her over the edge and over his edge. He spent himself heavily inside her while Riala rudely chewed and licked her face. Patience and the Prince thrashed together in a heavy mutual orgasm.
    As the magic subsided Riala transferred her licking from Patience's face to the Prince's cock, licking his traces of semen, cleaning her Prince's cock. And then surprisingly, as they still panted, Patience felt fingers in her entrance and the concubine brought her face to her quim and began to lap the Prince's semen there with her tongue. The flicking of Riala's tongue brought renewed life and tension to Patience who found the effect most pleasurable. As the King recovered the concubine lapped at Patience's quim and the clitoris within, cleaning up his outpoured fluids. Soon it caught her and she felt the rise of unstoppable excitement once again. Once again she began to breathe heavily and the Prince watched while the concubine licked her to another orgasm. She felt wonderful as all eyes were upon her, willing to share in her pleasure. She screamed in pleasure as they watched her writhe and stretch. Soon all her privacy evaporated as she showed them what she really was. The Goddess watched her too and was pleased as she opened herself up to all.
    Patience was all fired up by these pleasurable experiments and she began to see herself as a High Priestess whose duty and pleasure it should be to bring people together in sexual sharing. She believed it was the true way of the Goddess now, encouraging and enabling the people and the cult followers. However she accepted she had more to learn and experience, and to understand, before she could impart her newfound understanding to others.