Time Travellers from the 1960's : Ch.8 : Cheryl, The Modern Woman (Part 2)
Image: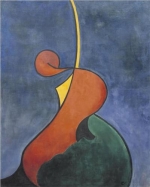 Sat, 06 Jun 2015
(Part 2)
Because she feared that Ted was being sucked into that woman's seductive orbit Louise felt the trepidation of jealousy for the first significant time in their partnership. In their earlier life sexual matters had been entertainments, diversions, pleasant adventures. Other partners were like friends, non threatening, sometimes to be shared, other times to be a part of their personal space. This one held none of the progressive ideals of their earlier circles. This one was a modern woman who was traditional. It seemed that possession, acquisition, selfishness and competition were still as much the order of today as they had been in their own time. As in their own times perhaps they would need to look hard to find the people who would share their progressive ideals. There was no doubt that sexual attitudes had changed, but they had not changed in the ways they had expected. Sexual partnership rules, while looser among the young, and attitudes being largely less rigid, still supported a jealous and possessive monogamy for most people, despite an obvious acceptable fascination with 'sexual fantasies'.
Louise knew that Ted disagreed with possessiveness. Her rational logical mind knew perfectly well that their old arrangements suited him better, but emotionally she felt Cheryl's attempts to pull him away from her and imprison Ted. She appreciated the seductive power of the woman and knew Ted was very attracted by her. If the woman had been a 'progressive' type she would have trusted her to give Ted a good time, and might well have become her friend also. But the woman lived by competitive rules, had decided Ted was a suitable man for her, and was going all out to win him. Ted had kept up the pretence that he had no long term partner so that he could be free to enjoy himself. Louise now thought it might be necessary to introduce herself to Cheryl as Ted's partner. She feared the effect of that revelation. Either Cheryl would be annoyed with Ted and spurn him, which would upset Ted because he certainly was not finished with this beauty yet. Or she would make a play for him – try to take him over and cut Louise out. Louise knew Ted would not want that, but he just might play along with Cheryl for a while until he grew tired of her. In the meantime Louise would be sidelined for some time, and she would feel lonely and deserted. She would have to talk to Ted about it, or maybe she should make her presence and her prior claim felt with this woman. She did not believe she could ever lose Ted, after all they had been through time together. Rationally she knew it was not possible, but emotionally she feared that her actions might annoy him too much and she might pay for this some time ahead. It was hardly possible that he might forsake her for the kind of relationship Cheryl wanted. Ted's love of variety made that unlikely.
"Hi Lou," said Ted as he returned home. He wanted to broach the subject of Cheryl with Louise, but was uncomfortable about doing so. He suspected her attitude would not be so positive. Louise had begun to show jealousy towards his growing relationship.
"Let me guess where you've been?" she said sarcastically. He was unused to this serious undertone in her humour. Normally she was amused and open about his flings, as he was about hers.
"I have been out with Cheryl again," he shared openly with her.
"Did you go back to her place?"
"Yes," he said.
"And was it good?"
"Yes it was. I enjoyed it. We've done it before, as you know." He wanted to say something about Cheryl, to ask something, but Louise was getting her questions in first, making it seem as if he was not volunteering the information, making him feel that he was keeping something back. She was making him feel guilty.
"You know what she's doing don't you?" Louise argued. "She's trying to take hold of you. She wants you to belong to her. You're going to have to ask yourself whether that's what you really want. She's not some casual swinger. She doesn't want a fling. She wants to take you over, and tie you down."
"I know that's what she wants, but that is not what I want, so what's the problem?" he retorted.
"She's trapping you. You keep seeing her and one day soon she'll find out about me and tell you to give me up. I worry that you will follow her instructions."
"Louise I would never go along with that. I fancy her, okay. Yeah, she's beautiful, and the sex is good. But if you think I would ever desert you, or let a 21st century woman control my freedom you've got it wrong."
"Well how far are you gonna take it with her?" asked Louise. "I'd take a bet she'd drop you immediately if she knew about our relationship. These 21st century women are mostly possessive. Just like women in our day. I don't think they've come much further forward."
Lou's feelings were out in the open. It was just as well, Ted thought. They had to have these conversations sometime. She was right that his own requirements from the opposite sex were on a collision course with Cheryl's rules. In the long run he would not keep her, unless she dramatically changed her views, which seemed unlikely. He did not really approve of many of Cheryl's attitudes, and her character was hardly the same as his own. Sexual attraction, mainly, kept him interested in her. Her looks were good; she could have had as many men as she liked. He would eventually tire of her, but for the moment his relationship with her was exciting and passionate. Why should he forego that for Louise's jealousy. He was disappointed by Cheryl's shallow attitudes.
"You know as well as I do that Cheryl will never take over from the position you hold in my life," argued Ted. "Cheryl's mind is not the same as mine, or yours. She is possessive and jealous, thinks she's more intelligent than she is. She loves possessions and furnishings, and clothes, far more than ideals. She will do far more than she should merely for money, and she'll spend money because she loves the act of spending. She's like so many women, of the past and of today. She thinks she's an intellectual because she's well educated, but all her ideas are borrowed. But if you think her 'faults' or differences make her unsuitable as a bed partner for me you're wrong. Her body turns me on right now, and her high class act is enjoyable. I don't ever see me wanting to live with her; that would ruin it. I don't see it lasting too long, because we're different, and because she's looking for a Mr Right who's unattached and is willing to take her on exclusively. But while its happening I want to be free to explore this relationship."
"You are dishonest, you naughty man," laughed Louise, sarcastically. "Don't you think she's gonna be angry when she finds out she's been duped? It's dishonest."
"This ain't the first time you've seen me bed a woman who saw me as a potential marriage partner. You didn't object then, because you accepted that a lot of conventional types don't entertain the possibility of promiscuity. Often they don't know themselves what they think. Many of them probably prefer it that way. It's just they're so conventional they don't like to admit it. There are women who've wanted a piece of me but they wouldn't really want the full me if they knew what it was. That doesn't mean they regret having a piece of me. The same applies to Cheryl. She's been married before; she doesn't need a copy of what she's had before. She says she's looking for that, but a relationship with me for a while is probably what she needs for now. She can keep on looking after I've gone, but I doubt she'll regret what she had with me."