The Essence of the Rose.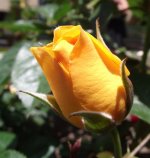 Thu, 22 Dec 2016
Tiers...perfumed tincture
of its central perfection,
a mystic beauty.
The maidens dance morn and noon,
faeries jive the pale-faced moon.
Rosa shines dusty gold
reflecting partners wild glow 
a shy pixie's globe,
sweet, spicy, lemon fragrance
Bliss-splendid taste of Heaven.
Heads...luxury crowns,
lusty virgins root and swell,
curling your leaves,
revealing tall quivering
butter-cream stamens.
Sway in Summer's breeze
Flawless floret performance,
thorns scalpel defence,
each bud embroiders gay bloom...
Sculptured by Earth Mother's hummms..
A trillion years pass...
your essence captured
in trickling streams of turquoise 
Started off a a single Tanka....ended up as 4 Tankas, linked,  with a little ending to finish it off.
Image of Rosa 'Julia Child' courtesy of Wikimedia Commons Public Domain image by 'Stickpen' USA.