Jewels of Africa.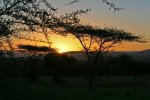 Wed, 05 Oct 2016
The saffron Queen spins the lilac sky,
her rays flick crimson cinders into Royal Blue Oceans.
Submerge, sizzle, frizzle...going, going, gone! ...But Not.
Cumulus clouds drizzle pepper fog over pink Flamingos, homeward bound.
Tea-green Botswana bush,
teeny, tiny Hummingbirds hover over brink-pink Balsams,
feast on elixir of nectar.
Royal Albatross rides the last whip of wind.
Sulking Stork swoops through veiled mists above marshy meadow ponds.
Sword sunbeams lash chrome, coppery twilight.
Mooned dusks, a violet cape cloaks bathing blooms.
Nightscape sky sparks, preparing morning's thin blue...aurora hue.
Camouflaged branches stretch, tickle studded clouds
as ribboned roots cling to crevice homes.
A spook- silver ring appears from nowhere, pearling ripples aluminium.
Beams spill across the sea like lines of glittering fire.
Ethiopian wolves howl composed solos, 
phantom echoes shudder Tarantula's lair 
as Flax Lily spurts scent...Frankincense and Lime.
Sultry Savannah's secrets passed on by rhythmic lip-smacking Baboons,
cracking jokes in the knitted canopy, 
teasing and tickling clowning Hyena's below as
a blinkered platoon of Jet Wood Ants march to their Majesty.
Dawn draws indigo voiles over Nephthys, Goddess of Night
slashes of Sunrise surge shadows as the Bush Lark spangles jewels in the air. 
The Alize wind dies in respect to heavenly panorama...
Mountains reflected, seen to be varnished into still, smalt-blue sea.