A Mystic Winter's Eve.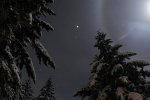 Mon, 04 Dec 2017
1 likes
Fireflies loom lanterns
above a marbled, rippled rivulet.
A blood moon lends
reflections
to a platinum lake
as Evening Primulas are
summoned by Venus.
Sunset…terracotta flames,
jasper sparks.
Shooting stars flirt with
an infant rainbow,
steely ash falls to pearly
debris,
cradled by ebony earth
as Roses glow like old rubies.
Shrouds of silken webs
catch stars dribbling rays,
a thousand Swan carvings
float…
as nature's flora
slumbers.
Curly moonstone mists
quiver a mirage,
awaiting seduction of
wandering spirits.
An eerie aura spawned by
phantoms
conjures Goddesses,
captures and spellbinds
their innocent souls.
Winter Jasmines,
colourless, lonely,
grieving for sun-strokes
to deliver their loveliness.
  ​
​Image courtesy of Wikimedia Commons.
​Winter Stars Chris Sherman. 2013 Photo.