Machine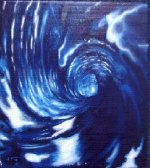 Wed, 22 Feb 2017
Despite trying to think of anything else except his obsession, he found his thought patterns returning to the problem he faced. That problem was lying in the basement of his detached house on the outskirts of a village. He stared into a candle-flame, hoping the answers would come from there, as he was conserving electricity, so used candles when it grew dark.
He was sat in his living room, in his well-used armchair, in complete silence, contemplating. Nobody knew what he was doing. People would probably think he had a screw loose. Loose screws were perhaps part of the problem, considering the amount of electrical equipment he was putting together.
There were nine computers down there, each of them taken apart and an attempt made to fuse them all together to route electricity into two points. At the end of those points were two diamonds, which he believed would harness the electricity and convert its output into alpha radiation, which in turn would bend the surrounding space, much like putting a straw in a glass of water, images distorted. With space being related to time, it would therefore have to bend time as well. He was quite convinced it would work, that he could travel through time, as previously he had worked it all out mathematically. What he could not fathom was how to control where and when he would end up once he stepped between the diamonds.
He had one monitor set up, the others were dismantled, which he was trying to wire so he could type the destination and year. However that aspect of it might be harder to work out as he was doubtful he could type: 'Antarctica, 1845', and actually end up there once the machine was on. The destination as it stood now, was probably where the machine was, only in a different time. He could perhaps type a date in the past, maybe two or three years ago, and end up in an empty basement. He had no idea. It was all theory at present, and he wondered if he should buy an animal from the pet shop, turn the machine on and throw it between the diamonds. He decided against it. He needed to see the destination.
He was also aware of the problem that if he went into the past, the machine would not be there for him to return to the present, having worked out that there would be a time distortion between the diamonds in whichever time he was in. Therefore all he needed to do was return to where the machine would be, as time between the diamonds would be distorted as long as the machine was on, so he could return at any time. Yet he couldn't guarantee he would arrive in one piece. Would his biological matter, his very cells arrange back to normal once stepped into the vortex? He knew he would have to concoct some sort of programme to have everything constructed in an orderly way.
Such was his curiosity and his eagerness to see if his calculations worked, he made his way into the basement, turning the light on. There were two parallel tables, each covered with computer innards, but all connected to route electricity to the diamonds on each table corner. First he had to be sure that there was a time distortion between the diamonds, and all he had to do for that was switch it on. It was only a blank wall behind the gemstones, so if time was metamorphing, it would be difficult to tell, so he walked back out into the kitchen and took down a calender with a picture of a running leopard. It was quite apt, he thought, as the photographer had caught a snapshot of time. Time was frozen for the leopard.
He took it down into the basement and sellotaped it to the wall between the diamonds. If the leopard distorted when he turned everything on, then he knew it should work. To turn everything on, all he had to do was press the switches on the walls, next to where it was all plugged in. He didn't know why he was hesitant, perhaps it was in case nothing happened, or perhaps it was the fame of having invented a time machine. He proceeded to press the switches, but stopped at the last.
He took a deep breath, and pressed it. With avid curiosity, he stood watching the leopard between the diamonds. The electricity flowed through the equipment on both tables, generating a low humming sound which seemed to grow louder as the power flowed through. It reached the diamonds, and they glowed bright red, proof of the fact that it was converting to alpha radiation. The leopard looked no different, there didn't seem to be any interaction between each diamond, but the droning sound grew to be deafening, and the gems grew brighter, glowing like scarlet stars.
It was then that he saw that the leopard was becoming blurred, but it looked like it was running. Time was indeed becoming distorted, and before his mind went blank, he was aware that his feet were no longer touching the floor.
He woke up where he previously had been sitting, in his armchair in the living room, staring at the candle-flame with no memory at all of what had happened. He couldn't have any memory of it as it hadn't happened yet. He had indeed managed to invent the time machine, and it had sent him back ten minutes. The thing was, as all things that had happened in the past, have indeed happened, he had no freewill. This meant that he had exactly the same thoughts, and performed the same actions as he did previously. He still contemplated his time machine, wondering whether or not it would work, and would continue this cycle forever, inventing two things at the same time. The time machine and immortality.