SMELL THE ROSE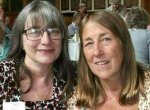 Fri, 10 Nov 2017
Closest to me genetically
Just minus 4 mathematically,
Separated only by time and miles,;
Both small in height, but big on smiles;
So different: yet so much the same,
All our lives we've shared a name!
Now we won't let cruel cancer part us -
With a loving warrior clan behind us.
And helped by words from wise friend Bee
We won't give up, my sis and me.
I know what Mum and Dad would say:
'Stand tall and wipe those tears away,
There's nothing you two girls can't handle!'
So.....
Smell the Rose, blow out the candle.