The Hairy Monk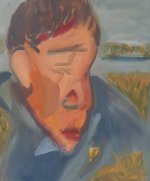 Fri, 05 Jun 2020
1 likes
(Curitiba Brasil)
The Hairy Monk
Outside this window a hairy monk in his brown robes
strides through the vegetable patch, swishing,
as monks tend to do; a blue over-frock,
a blue bottle of something Holy in his hand,
enters the chicken coop, blessing, sprinkling,
saying monk things to the quiet flock;
reappears to circle the greens
shaking the bottle like vinaigrette,
hopscotches the terracotta path
followed by Mr and Mrs Jeans,
who postponed this afternoon's siesta
to pray over their silver Ford Fiesta.
He shakes his Holy thing around
door frames, along the driveway,
lingers by the entrance to their abode,
and they disappear inside for cups of herbal tea.
Will the hens sing songs tomorrow?
One can only wait and see.
*
Three months under the kosh 
of hierarchy's accident,
Lockdown, 
the snakes in the grass and adders climbing 
ladders, the Hairy Monk no match
for the noise of Corp and Coop, looped
his swing rope, frankincense licence lit
around doorways frames, not blind
to the ticking Ford Fiesta revving
dust songs on the driveway – screams
of oyster and lobster exploding
thermitic pulchritudinous muck
soft morphing the petrichor of herds
moving speckled beach towels,
and the monk doesn't budge.
The colours of a pearl siesta, rainbow
salt in his eye, a soft pollen mote
journeying to the heart.