Colossus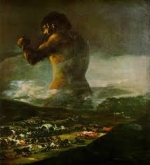 Sat, 30 Nov 2013
His effortless weight now comes to bear
as taut meat clings close to bone
in the hollow of my father's forearm 
where my own flesh now rests,
gargling his fumbled questions.
This fleshy mesh encircles generations now.
And with infinite new-found patience he listens to bubbling assonance
where before 
there were simply orders.
My son's skin is forgiving and supple amid the
bleeding off-blue ink of misremembered times and
hyperbolic tales:
This one Ruskie I met on the wall...
That Bolivian swamp march with mile wide mosquitoes...
The last time I saw him six inch bars were between us...
He twists his eczema torn torso in your psoriatic crook;
You both relate.
But do you fail or fix my son with that quixotic arm encircling us all?
You throw a mighty shadow into our futures.
Will you persevere with natural smiles hung on those vitriolic lips?
Will I forgive your guilty sins like the smoke stained ridges of your fingertips that left long indelible prints on both our skins?
Does that make me better?