Dumb Flock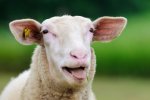 Sat, 04 Apr 2015
We are the shepherds.
Though the sheep bite our hands
and chew through every insecurity.
We both stand firm,
shepherd and dumb flock,
through wind, rain and shifting sands.

Some of us are smart.
Some just simply aren't.

We both make the same old mistakes.
Time and again.
Failure to launch.
Failure to learn
is now our failure.

Abuse feeds the sheep factory,
the ranked slaughter house of life and work.
There we spoon feed goose feed
till their spleens explode.

We mould your failure into ours.
We bear the slings and arrows of your bad parenting.
But we teach them to fail in green pen etching
so we can justify our means to an end.

And in their faces I see a dull reflection of me and mine.
Ripples of misunderstanding,
furrows of absent knowledge,
triumphantly wrong and laughing.

With infinite patience
the fodder for the slaughterhouse queue.
Statuesque, unless
we make the horses drink.