A Bottomless Pit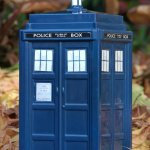 Sun, 29 Apr 2018
You must have heard of the Tardis,
-a Police phone box, painted blue-
the unconventional conveyance
of one who calls himself Dr Who.
We may think it's too small a craft
by looking at it from the outside
but with limitless room within
and well fitted for a spatial ride.
I compare it to a woman's accessory
inside which we can find her purse
and if we dare to peek at its contents
we may be the subjects of her curse.
A handbag??? I can hear you cry,
echoing the words of Oscar Wilde,
but calm yourself and hear me out
and you will understand, my child.
Surprising how much the bag holds;
it is in my view a never-ending pit.
We end up with a thumping headache
by the time we examine what's in it.
It is easy to compile an inventory
once we manage to take a look:
a lipstick, a powder puff, a mirror,
a wallet, some keys, a chequebook;
a driving licence and a paperback -
(Dan Brown's "The Da Vinci Code")
a pen, French letters (just in case),
a gas canister that might explode.
a lighter, cigarettes and nail scissors,
aspirins to relieve one's migraine
a sachet containing white substance
that could be talcum powder or cocaine.
Discovery of the latter comes as a surprise;
by contrast the other items seem tame.
My search has proved to be an eye opener
disconcerting but intriguing just the same.
© Luigi Pagano 2018