The Cherry Orchard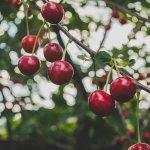 Mon, 29 Jun 2020
When he uttered those words:
'Come into the garden, Maud'
she saw it as a bold move
and was inclined to applaud.
 
She wasn't too apprehensive
yet felt a bit of tension.
She knew what his plan was,
she had guessed his intention.
 
'He will smell the roses
or maybe pick some berry',
she thought, but knew all along
that he was after her cherry.
 
She had to hang on to her prize,
the best one in her orchard.
Though it was small in size
to lose it would be hard.
 
And it would be a great pity;
she had nurtured every bush
and tree since they first budded.
Could she withstand the push?
 
She pondered and decided
that she would no longer quibble
if they could share the fruit
and she got more than a nibble.
© Luigi Pagano