Culture Vultures and Sour Grapes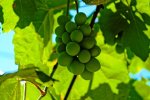 Mon, 11 Dec 2017
A number of poets
write purely for fun.
With tongue-in-cheek
pen a humorous pun
or they play with fire
whenever attempting
to compose a satire.
They  are not serious
- that much is clear -
they follow the likes
of Carroll and Lear.
But there are others
who, being ambitious,
believe that the Muse
will only be auspicious
to those who work hard
at trying to become
the next great Bard.
They spout quite a lot
and say they are proud
to offer their wisdom
to a cultured crowd.
They see the distinction
between show and tell
but they are too blind
to see they can't spell.
They ignore criticism
by anyone who japes:
if their work is slated
it's due to sour grapes.
© Luigi Pagano 2017