Dante's Road to Hell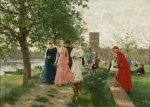 Mon, 30 May 2022
2 likes
"Midway through the journey of my life,
having deviated from the right path
I found myself in a tenebrous place."
That's what you said, in the aftermath
of realising to have fallen from grace.
You've carried the torch for Beatrice
since she was a twelve-year-old girl.
Hoping to catch a glimpse of her face,
of her bright blue eyes and blonde curl,
you roam the Florentine cobbled streets
and dream she will exchange glances.
But did she ever hint that she might
even consider your amorous advances?
Isn't 'yes' the answer you hanker for?
The thought of having sinned haunts you,
that you have lost all dignity and decor.
You know that you haven't behaved well;
that's why you say you've lost your way
and are embarking on the road to Hell.
© Luigi Pagano 2021