Genealogy for Beginners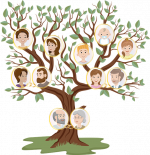 Sat, 15 Oct 2022
2 likes
I made some attempts
at building a family tree
but found that genealogy
is not really for me.
Trying to go back in time
is laborious and tough;
tracing my father's name
was strait-forward enough,
I knew his date of birth
and the year that he died.
It's true the task was easy
and it can't be denied.
But the published records
might not disclose all,
to find any hidden secrets
one needs a crystal ball.
When he was a teenager,
he experienced a thrill: 
a rich uncle asked him
to join him in Brazil.
Money, it seems, arrived
intended for the ticket
and not to be frittered
on a slow racing whippet.
It was a lost opportunity
that he would always rue,
he told me, but I believe
that story to be untrue.
He was well educated
and could be very witty
but was also a dreamer,
a kind of Walter Mitty.
#
Dear readers, beware
that it's not my intention
to mislead but what I said
is just pure invention.
© Luigi Pagano 2022