Give Us Our Daily Bread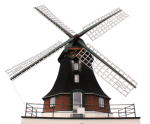 Sun, 17 Dec 2017
A note went round
saying that it was felt
the gristmill business
had done very well.
It produced fine flour,
self-raising and spelt,
from excellent grain.
The value of the assets
had gone up a lot
and so had the goodwill.
To all men (there were seven)
and three women
who worked at the mill
to hear the good news
was manna from heaven.
As they had received praise
they had an excuse
to ask for a raise.
Could the management refuse?
© Luigi Pagano 2017