I Was Supposed to be Somewhere Else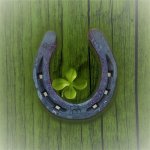 Sun, 07 Jul 2019
1 likes
I was supposed to be
somewhere else today
but I'm not there just yet,
I am delighted to say.
 
A chiromancer told me
i was in a real fix,
that soon I'd be ferried
across the river Styx.
 
Doom was also foretold
by the Death Tarot Card.
The prediction shook me
and I took it very hard.
 
A gypsy looked as well
in her crystal ball
and she too concurred
that it'd be a close call.
 
A leprechaun then said
that what I ought to do
was to go searching
for a lucky horseshoe.
 
It was only when I found
a rare four-leaf clover
that I finally knew
my troubles were over.
 
It is Sunday morning
and I woke up at five;
to my immense relief
I find that I am alive.
© Luigi Pagano 2019