A Journey Into Space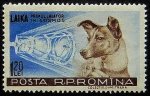 Sat, 01 Dec 2018
In 1957 the Reds decided to pick
a small bitch to launch into space
in a rocket that they called Sputnik.
 
A country famous for the balalaika
became notorious for a small mutt,
a mongrel, part terrier, named Laika.
 
It was a test for human space flight
that later occurred with Yuri Gagarin
to the Soviets' overwhelming delight.
 
But in contrast to the poor barker
the male cosmonaut remained alive.
The canine's fate was rather darker.
 
Lack of oxygen or excessive heat
resulted in fatality for the wee tyke
and the experiment ended in defeat.
 
It is debatable if it was due to guilt
or to proclaim that all life is sacred
that to her memory a statue was built.
 
© Luigi Pagano 2018