Lapsus Linguae (I.P.)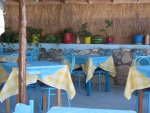 Sat, 29 Mar 2014
It was a Greek taverna
next to a nightclub
where, my daughter said,
she had a lamb hubbub.
She was only a little tot
and it is understandable
that she misunderstood
the waiter at the table.
He hailed from Mykonos
and his accent was thick;
he enunciated badly,
his delivery was  quick.
Then she wrongly used
the past tense of feed,
which she knew to be fed,
and we have to concede
it did indeed make sense:
when offered more food
she answered in a way
I thought rather good:
"I really am fed up,
I ate more than enough."
This answer was met
by a resonant  laugh.
© Luigi Pagano 2014