Liaisons Dangereuses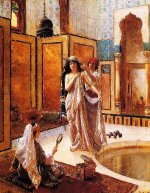 Sun, 07 Jan 2018
1 likes
Omar knew he was taking a risk
when he fell in love with Soraya
the Sultan's favourite odalisque.
She was one of many in the harem
banned from seeing other men
but she managed, so it would seem,
to smuggle the boy into her room
secretly at night with no idea
that this act could spell his doom.
As he retained his entire physique,
including valuable nether attributes,
among the eunuchs he was unique.
Quickly he dismissed the speculation
that being a male he had undergone
the painful ordeal of emasculation.
The atmosphere became febrile
when the women saw that this boy
was not impotent but manly and virile.
They were used to bathe in the nude
washing and massaging each other,
practices some thought were rude
but from which they derived pleasure.
Now they ogled the youth with lust
and believed they had his measure.
He very soon got a tough reprimand
from Soraya as he was too compliant
with  the women's incessant demand.
Realising this was a desperate plight
he decided the best course of action
would be to give up and take flight.
© Luigi Pagano 2018