Loch Ness Monster - the Truth.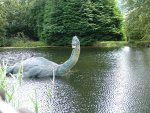 Thu, 11 Jul 2019
One Sunday, Ness
with her fiancée fled
and on a Wednesday
the couple were wed.
Not in the church
as her parents hoped
but in Gretna Green
where they had eloped.
 
It was not because
they were secular
(about religion
they weren't particular),
it was being married
by the anvil priests
that appealed to them;
it was hard to resist.
 
Her father had objected
to the choice of the lass;
the boy was uncouth
and of a lower class.
And although his opinion
could be disputable
the youth in the end
proved to be unsuitable.
 
He was often unfaithful
and deserted poor Ness
who having been left
was in much distress,
lost the will to live
and, to everyone's shock,
in a desperate act
threw herself in the loch.
 
People say it's a monster
that swims in that water
but it's the frantic attempt
of a remorseful rotter
who, finally contrite,
is trying to save her
from a deep abyss
and Davy Jones' locker.
© Luigi Pagano 2019