The Maze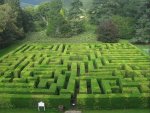 Sun, 13 Sep 2020
1 likes
The devilish labyrinth
that Daedalus devised
was arduous to exit.
The Athenian Theseus
could not have done it
without the assistance
provided by Ariadne
who left a trail
of glittering jewels
for him to follow.
It could be a metaphor
for human existence.
If you come to a fork
what is it that you do,
turn left or turn right?
You may get it wrong
and go round in circles.
To escape the maze
it is most advisable
to mark the route
to retrace one's steps.
Whatever your choice
don't lose the thread
or you will end up
in a blind alley.
© Luigi Pagano 2020