In the Nick of Time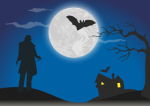 Sat, 26 Aug 2017
Transylvania was quiet
so he travelled to Gaul
in a matter of hours
as it was a short haul.
He hoped he would find
an exquisite neck;
one that, with his lips,
he could lightly peck.
But his problem was
that his upper incisors
were far too pointed
and sharp as a razor.
The Count had lost count
of the necks he'd bitten;
by his victims' charms
he'd always been smitten.
A vampire at night
he was forced to return
long before the sun rose
or his body would burn.
He liked French cuisine
and everything Gallic
yet he drew the line
when it came to garlic.
As he was about to order
food seasoned with curry
he realised it was late
and therefore had to hurry.
Flew into a rage, cursed,
and nearly blew a gasket,
but at the last minute
he was back in his casket.
© Luigi Pagano 2017
Image from Pixabay - CC0 Creative Commons - No attribution required