A Parable For Our Time (Poetry Monthly)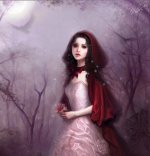 Sat, 13 Jun 2015
She took a shortcut through the woods
looking glamorous in her new red attire.
Although told not to stray from the path
she was driven by a burgeoning desire.
High heels, miniskirt: she felt grown up;
knew she was pretty, desirable even.
She'd been told many times by this boy
she'd met on the net, called Stephen.
Not easy to walk in those tall  shoes
but she hurried; didn't want to be late.
The dream would soon be a reality:
before long she'd meet her new mate.
He had sent her a text and a 'selfie'.
He looked gorgeous, with sensual lips,
dark big eyes and a perfect physique;
it would definitely be worth the trip.
Ignored was the parents' advice
about paedophiles and grooming;
plus  the press forever crying wolf,
warning that danger was looming.
Alarm bells began to ring loudly
when a man, whose looks were shifty,
came towards  her at the station;
his age was approximately fifty.
But luck was on her side this time
and the next thing that she saw
was the pervert being taken away,
caught  by the long arm of the law.
© Luigi Pagano 2015