Pub Crawl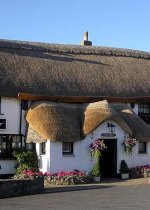 Mon, 25 Aug 2014
On my pub crawl
I tried them all.
First, The King's Arms
so full of charms,
Then the Blue Boar
for an encore.
The Rose and Crown
was a letdown
but The Queen's Head
wasn't too bad.
The Flowerpot:
a bit too hot
and The Blue Lamp
a little damp.
Inside The Ship
the crowd was hip.
In The Grapevine
I drank red wine
and had some gin
at The Cock Inn.
As for their Scotch...
it was top notch.
A dram of whisky
is seldom risky.
I don't know how
I got to The Plough
(or was it The Bell?
I really can't tell.)
Home, from The Harp,
and the wife was sharp.
She glared and hissed:
You're thoroughly p****d!
© Luigi Pagano