A Russian Doll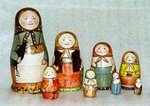 Sat, 03 May 2014
I am so excited, I'm expecting a call
long distance, from Vladivostok.
I'll hear Ludmilla, a nice Russian doll,
who'll ring, precisely, at one o'clock.
We have not yet physically met
but we've come across in cyber space.
Monday is a day that I won't forget
for  it was when I first saw her face.
I am determined that I will catch her
and I've asked her to come to my villa
leaving behind her favourite dacha.
Can't bear the suspense, it is a thriller.
I have made it clear I intend to proffer
a marriage proposal she can accept,
that there's riches in my money coffer
although at romancing I'm quite inept.
It was the latter that was my downfall,
she told me with the greatest regret,
when at long last she made that call,
that her reply would have to be niet *
© Luigi Pagano 2014
*  Phonetic transcription of нет (No).