Snoopy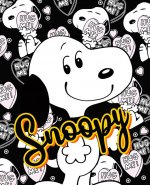 Sat, 24 Sep 2022
2 likes
I saw a 'Peanuts' cartoon
that showed the dog Snoopy
lying on top of his doghouse,
a behaviour that seemed loopy.
But what he said, as he lay
on that rooftop, was strange.
He pondered and told himself:
"What I need is a change."
Then turned and lay supine
in the opposite direction;
thus he viewed the world
with a different perception.
© Luigi Pagano 2022