A Spelling Bee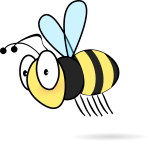 Thu, 13 Jan 2022
1 likes
Basil Humblebee had a bee in his bonnet: he strongly believed he had blue blood in his veins. Perhaps he had been born on the wrong side of the blanket, he felt.
His father was a womaniser beguiled by his boss, Beatrice.
It was quite possible that, at some time or another, he had been one of those bumbling drones always swarming around their female employer, waxing lyrical about her beauty and hoping she would misbehave.
Not that she needed flattery. Being the queen of the colony, it was her duty to kindle the attention of her subjects in order to go forth and multiply, so to speak.
She did her bidding, with pleasure and did not begrudge the time spent on the job but bewailed the lack of beefy, energetic candidates.
"Thank you, honey", she would say with a wink to any handsome male
hymenopteran that she had spotted with whichever of her five eyes
happened to be looking in his direction.
Basil was bewildered by how popular she was, maybe it was because her
behaviour seemed benign.
His parents were definitely a working-class couple toiling on a very busy assembly line, which was a hive of activity at all times, but he didn't identify with them; he was a class above, not just an operative but executive material.     
His ambition was to become the honcho himself. He was not besotted
by the queen's glamour and charm and would think of a way to hive her
off from her throne before anyone else claimed the privilege.
© Luigi Pagano 2022