A Typical Routine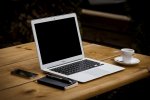 Sun, 03 Feb 2019
My literary efforts
are part of a ritual;
I switch on the PC
every day, as usual.
I open a document,
blank to start with,
and start composing
like any wordsmith.
I think of a subject 
that I'd like to explore,
of appropriate imagery
and the right metaphor.
I would like to write
something exclusive
but I've writers' block:
the Muse is elusive,
I desist from creating
and make myself coffee;
something tells me
I can't write for toffee.
A rush of adrenaline
was what was required;
I feel much refreshed
and once again inspired.
My routine is repetitive
and like Groundhog Day
I shall doubt my ability
tomorrow as today.
© Luigi Pagano 2019