A Worrying Thought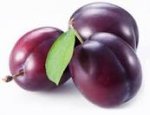 Fri, 11 Sep 2015
Here I am in my purple dress
ripe and ready to be plucked.
I'm also under a lot of stress
as I fear that I maybe chucked.
With the complexion of a peach
I am very well and in good nick
yet I seem to be out of reach;
people may think that I'm sick.
I am asked why I am so glum
and who I'm trying to impress
seeing that I am a kind of plum;
I say I am a damson in distress.
© Luigi Pagano 2015