Chadpocalypse - 2:6 - House of the Rising Sun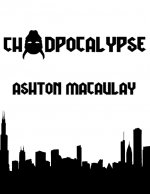 Tue, 10 Sep 2019
It's been a while, but I've nearly finished book 2 of Chadpocalypse and I'm ready to start posting again! If you want to catch up, here's a link to the collection: https://www.abctales.com/collection/chadpocalypse
2:6 House of the Rising Sun
When Chad finished his breakfast, Joe had to stop him from licking the plate. It wasn't cheeseburgers, but it had done the trick. In the short fifteen minutes they had allotted him to eat, he had consumed four cups of coffee, one breakfast combo, a cinnamon roll, and a short stack of pancakes. Chad felt like he could eat the whole thing over again. Something about talking to Death and running from The Devil's minions gave him an appetite like no other.
     "I told you he needed to eat," said Darla. She had been standing, watching his ravenous mealtime display with astonishment. Even Marcus turned away from his pancakes to stare.
     Steam rose from Chad's naked shoulders as he let the meal digest. His skin felt as though it had been temporarily superheated.
     Joe sat quietly, mulling over Chad's statement about Death and looking at him suspiciously. "Now that you're finished gorging yourself."
     Darla cocked an eyebrow. "I seem to remember someone tucking into their French toast."
     Joe scowled but continued to round on Chad. "You want to run that whole thing about Death by us again?"
     Chad scooped up the last dregs of butter and syrup with a spoon and pushed the plate away. "I'll be honest, I'm new to this whole fighting the apocalypse thing." He finished the last remnants of his cup of coffee and belched loudly. "Sorry about that." The sound had surprised even him.
     "I'd be more surprised if you hadn't," commented Darla.
     Chad nodded, feeling the grease settling heavy in his stomach. He noticed Joe was still staring, waiting for an answer. "Oh, come on, Joe. I told you what happened."
     "You had a long-distance phone call with Death," repeated Joe.
     "Yes, that about covers it."
     "And came back stinking like hellfire?"
     "What do you know about hellfire?" Chad wasn't taking kindly to being given the third degree.
     "I know enough." Joe's voice had a firmness to it that said he wouldn't answer any more questions. "You said Death is only a few days behind us?"
     Chad thought back to the ether, trying to recall the conversation. "Yes, but he could be lying. He is trying to kill us after all." Chad patted his stomach, happy that at least if he was going to die, he was going to do it on a full stomach.
     Joe made the sign of the cross on his chest. When he realized everyone was staring, he rounded on them all. "What? Does this not bother any of you?"
     Darla chuckled. "Joe, this is The Order. We've all seen things that have no right to exist and threaten human life as we know it every day."
     Joe looked like he was going to protest, but then nodded.
     "When you put it that way, four horsemen seems pretty tame," admitted James.
     Darla smiled. "I believe this young man said you were in a hurry?"
     Chad nodded, letting out another belch.
     James folded his hands in his lap. "No time to waste then. Take us down, Darla."
     "You know the magic word, James." She winked. "Arms in, dear." She gently pushed Chad's arms off the counter. "Marcus, get over here and escort these fine gentlemen, and Joe."
     Joe scowled but put his hands on his lap.
     "Where to?" asked Chad.
     Darla laughed and reached under the counter. Metal straps shot out of the stool, securing Chad's legs.
     "What the fu—" he started, but the floor dropped out from beneath him. The straps kept him firmly on the stool as he fell through the earth, passing through a vertical chute lit by flashing orange lights. Chad looked up in time to see the tile floor sliding back into place above them. The grease-sodden meal in his stomach did flips, threatening to come back up. He did a quick mental calculation, realized there was only one place for the vomit to go, and held it in.
     The fall only lasted a few seconds, but they passed in slow motion. The sound of hydraulic brakes filled the chute, as the stool slowed its descent. Chad felt as though he were being compressed like a spring and closed his eyes, waiting for the horrifying journey to end. The stool jolted to a halt and the lights in the chute went out. Chad opened his eyes to the pitch black and wondered if it had already ended and the apocalypse was no longer his problem. There was something calming about the abdication of responsibility that came along with death.
     As his eyes adjusted, Chad made out the dim outline of the chute above him, confirming that he was still alive. He was about to comment on it when a metal panel slid away in front of him, revealing a lavishly furnished hotel lobby. Red carpet stretched out in all directions with the edge coming right to Chad's feet. The ends were embroidered with images of mythical creatures, aliens, and an odd smattering of celebrities. "Now that's more what I expected."
     The straps holding Chad's legs relinquished and he stumbled to a stand, feeling the soreness from where they had cut in. Taking each step carefully, he walked into the lobby. Groups of people sat in plush armchairs around wooden tables with clawed feet. Most had cocktails, and those who didn't were busy trying to get the attention of the servers who brought them.
     At the table nearest to the elevator, a severe woman with her hair tied back worked tirelessly polishing a great axe on a table, only pausing to sip a tumbler of brown liquid next to it. The weapon had gems set into the pommel, and its edge was smooth, glinting even in the lobby's dim light. Chad felt his throat tighten as she looked up at him. They locked eyes only for a second, then, she looked to the far wall and whistled.
     A clean-cut man with a pencil thin mustache jumped up and walked briskly towards them. At the same time, Joe and James emerged from their chutes, looking worse for wear. Somehow, Marcus strolled out as if nothing had happened.
     "That never gets any easier." Joe touched his back gingerly, as if checking to make sure his spine was still intact.
     Marcus pulled a flask from his pocket and drained what was left in it. "You could try getting blind drunk first."
     Chad continued to eye the mustachioed the man as he moved towards them. The man's walk was fast, but it was meant to look calm so as not to disturb the other guests. "We going to get in trouble with management?"
     "Just stand back and let us do the talking." James puffed his chest up and ran a hand through his hair in an attempt at taming it.
     Content to take in the scenery, Chad stayed back. Trying to avoid eye contact with the axe polisher, he looked up at the ceiling where large, spiked chandeliers hung with deadly menace. No one else seemed to mind. They were all happily drinking, some even sitting next to large fireplaces that had been ornamented with a variety of silver skulls, most not human.
     Chad's attention was pulled away by a high and snooty voice. "Excuse me," it said, tapping a foot impatiently. "Who are you?"
     Chad let his gaze drift away from the lobby, though he still had a thousand questions. The man with the pencil-thin mustache had crossed the room and was standing a few feet in front of him. Without thinking much of it, Chad stuck his hand out. "I'm Chad, pleasure to meet you."
     The man looked down at Chad's hand with a disgust most people reserved for pond scum. "Yes, it would seem you are." He stiffened.
     James reached out and pushed Chad's hand down. "Sorry, he's a first-timer."
     The man snorted. "I can see that."
     "Hey—"
     "Chad, what did I say about letting me do the talking?"
     The petulant part of Chad's brain steamed. "But—"
     "We're not taking on new members at this time, and he's already seen too much." The snooty man's eyes flicked toward one of the larger fireplaces.
     "Don't even think about it," cut in Joe.
     A disappointed look crossed the man's face but was quickly replaced by a sneer. "And here I thought you were gone for good. Being a man of the cloth didn't work out?"
     "Trust me, this is temporary." Joe ran a hand over his robes, as if checking to make sure they were still there.
     "It always is." The man's sneer deepened. "Well, as much joy as this reunion is bringing me, I'm afraid we still have to figure out what to do with him." He jabbed a finger in Chad's direction.
     "We've come to request an exception." James crossed his arms as if that settled the matter.
     "An exception?" The man spat the word as if it were poisonous. "You realize that requires going before one of the elders, right?" A gleam leapt back into the man's eyes as he gazed at the fireplace once more. "The penalty of a failed exception is quite dire."
     "Why does he keep making eyes at that fireplace?" asked Chad, feeling more uncomfortable by the second. "I'm not trying to get burned alive here—"
     "Don't worry about it, Chad. We're not going to fail."
     The man laughed. "Well, in that case, which of the elders would you like to see?"
     "The Elder for Religious Intervention." Joe recoiled at the words as he said them.
     "How appropriate." The man mulled the idea over. "And I suppose this," he motioned to Marcus, "is your escort to such a meeting?"
     "That's right," burbled Marcus, speaking up for the first time in the encounter. "Darlene sent me down to make sure pricks like you didn't get in the way." He winked and belched, blowing a sour wind that could have peeled paint.  
     The man stepped to the side. "No accounting for taste, I suppose." Reluctantly, he added: "You're free to go, but don't let him touch anything." He turned on his heels and walked back toward the reception desk.
     Marcus attempted to give the man the finger, but with his lack of dexterity, it came off more like a loose shadow puppet.
     "Well, Marcus?" asked James.
     "Well?" Marcus stared at them with boozy eyes.
     "Are you going to escort us?"
     He jumped as if he had been bitten. "Oh, yes, of course. Follow me sirs." Marcus tipped his head into a mock bow and stumbled through the lobby.
     Heads turned from every direction as they walked. Chad tried to take the place in, but even at Marcus's languid clip, it was too much. A man blew a puff of green smoke in their direction that briefly took the form of a menacing ghostly warrior before dissipating. Chad shivered.
     James sensed his unease. "I've seen it before, nothing more than a well-practiced, cheap, parlor trick. They use it to scare off tourists in Nepal."
     "Right." It would have certainly done the trick of keeping Chad away if he had a choice in the matter.
     Marcus led them behind the reception desk and down a long, wood-paneled hallway. It was lined with numbered doors, each ornamented with gold locks. Between the doors were portraits of men and women, usually holding some sort of medieval weaponry, looking proud. In some cases, the weaponry in the picture was on display in a glass case below.
     James stiffened as they passed a portrait of a man dressed head-to-toe in black, wearing a dark wide-brimmed hat to match. He was holding up what looked like a perfectly-severed werewolf head, and yet still managed to look regal. Below the picture was a glass case displaying a simple hand-axe that called to Chad. He felt his hand reach toward it as they walked but pulled it back. The eyes of the portrait followed him and a voice whispered through the air, just quiet enough not to be heard. He shook his head, trying to clear his thoughts and caught James staring at the picture as well. "Know him?"
     "Unfortunately, yes. That's The Great Manchester." James's voice dripped with sarcasm as he said the title, but it was clear there was a degree of fear to it. "Bit of a prick in life. Even bigger prick in death."
     Chad looked over his shoulder one more time at the painting, making sure it hadn't come to life or tried to follow them. It hadn't. They continued to pass portraits and more doors until eventually the hallway widened into another spacious room. Unlike the lobby, this was furnished more like a traditional office space. Low-walled cubicles and desks dotted the area, lit by sterile fluorescent lights that felt out of place hanging from the ornate ceilings.
     Chad craned his neck to look inside one of the cubicles, but there wasn't much of interest. If he was expecting arcane secrets and magic, he was sorely disappointed. Almost every office was outfitted with standard fare: A rolling chair, a computer, and a plain white coffee mug.
     "Things sure have changed," muttered Joe.
     "The Order has adapted to the times. No need for swinging a pendulum over a map and black magic when data is so readily available." James sighed. "But I do miss the old days."
     "You're practically a babe." Joe chuckled. "Trust me, you would shed a tear if you knew what this place looked like in the actual old days."
     "What exactly do they do here?" asked Chad. From what he could see, it could have easily been an accounting firm rather than a secret organization.
     "This is the operations center. Their job is to listen, and whenever something seems out of place, it goes up on the board."  James pointed to a large map of the world that hung on the far wall. While most of it was dark, some cities were illuminated by multicolored lights. "Someone assigns a threat level," James motioned to the lights, "and gives the case to one of The Order's many members worldwide. They're dispatched and the problem is dealt with."
     Chad watched as an older woman picked up a red light and pinned it on Midway. "Think that one has anything to do with us?"
     "Almost certainly," replied Joe. "I'm sure by the time we get to the elders, they'll know all about it." A bead of sweat trickled down his brow.
     "Not far now." Marcus steadied himself on a cubicle wall as he continued forward. They passed through the office space and he led them to another twisting corridor in the back. The floor sloped down and the air grew colder. Eventually, they wound their way into a cavernous, circular room, outfitted almost entirely in stone. Ten massive double doors were laid out on the edges, each labeled with their respective position in The Order.
     In the center of the room was a gold sigil of a rising sun inlaid into the floor, shining in a blue light that radiated from somewhere high in the ceiling. Joe straightened his posture and murmured a prayer.   
     "No need to be nervous, Joe," said James. "I'm sure all is forgiven."
     "That doesn't sound like The Order I know." He crossed himself.
     Chad had to laugh. "I'm always excited to meet more 'friends' of Joe."
     Marcus staggered over to a door on the right and knocked.