Gladly - an old poem re-edit.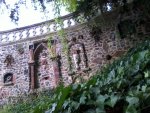 Sun, 25 Sep 2016
Gladly
Gladly like the feathery motion
Of a hummingbird's total floatation,
Speed and dexterity, in determination
I will love you.
Glamourusly as the purr of a cat,
Waiting to be fed, will I move so,
and not so, lightly touch, soft 
I'll feel, fur to skin.
Honestly will I be open to you,
And yet within - we'll amoeba.
A well weathered soul, two holes
made whole, in that 
I cannot stop - all the complexities,
nature invented, skin vibration.
Until the time of hibernation
is finished and the land will be
drenched, and the dryness of Nature
is explained, 
by the coming of Spring.