Leggings - 69p for a bag of Oranges!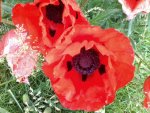 Thu, 30 Jun 2016
Leggings - 69p for a bag of Oranges!
It was the day of the Norfolk show, and Leggings was on the No. 4 to Norwich, trying to stay awake at something past 8, when the driver got inexplicably delayed by the long queues of Norfolk Show Goers...   A rare exotic candy dance troupe.... whose wagons had purloined six parts of the dual carriageway.
Across the deck, a child was singing nursery rhymes to her Mum and Leggings mind wandered back to the time when she had gone to the show between Uncle Alistair and Uncle Edmund, hanging on tight with both hands.  All around the animals surged, multi-coloured into the pens.  The roars from the crowd echoed in her ears.  Yes it had been worth going too.  Even a flock of Ducks waddle-ing past following their owner was met by a smile.  
Even so she kept to her schedule a stop here and there, and on to the shops outside work.  As she entered the store a veritable Coop,  69p for a bag of oranges, she passed two sets of equally well-pressed trousers...  whose voices coming from further up came to her attention.  They were talking to the shop assistants.
"And when she comes in here is she well behavioured?"
Oh! I thought.  Weird!  
"You are quite sure she never does anything from this list of misbehavior?"   
Seriously weird!  What a pair of Dodo's!
The Shop Assistants asserted that in fact they hadn't noticed anything such.
The well pressed trouser men were astonished and a little upset.  Their voices got higher... (wonder whether you know who got to them first?)
"Are you sure?  Are you certain she never did?"
"No, No!  Never seen her do anything like that!"
"We need to know!  We need to prove our point somehow!"
"You can do a lot with a bag of Oranges!" said the sales assistant sourly, "I'm not telling you how though!"  Well she'd obviously thought it likely too, too!
Leggings grinned as she passed them by...  You can never tell who is after who, can you?  Perhaps its Knobby!
Later on, the Ball Gatherer offers on the psychic plane, the old Black shop in the center of the village.  The tale goes thus, "You offered him the shop and some money to use your systems to run the rents.  He promised to give you back later on in life..."  and then, "He told us to give you back the house & shop, and I've got the deeds etc to give you.  Only the family don't like it and are camped out up in the shop!"
I don't know what to say.  Some of this has a familiar ring.  Some of it don't.  I met Mr. Black up in the village some years ago with his spaniel dog, a lovely red one.  So soft.  He was a nice person, hurried, smiled.  We didn't recognize each other from years back, or if he did he was embarrassed.  I do know we  (my Uncles and I) tried hard to give people chances to succeed in any way they could. Its important for other people to feel they can get on well in life.  Its hard without help.  I know I had their help in the early days...   When once I would have been a Duchess...  if I could have worn a coronet.
The Ball Gatherer continues to assert, "The shop isn't doing so well now, I mean he's backed out of it, lost interest...   I don't understand the systems, and you would...   They just aren't doing their jobs right either."
I wonder whether to leap out of bed and grab her to see if she really has the stuff.  It would be a surprise if she did.  
Later on the story of Knobby becomes more important, as the whole crew of Church goers, odd bods, and peripheries gets into action trying to get me dead tired out by keeping me awake.  The action is to take off early hours today before 6 a.m.  I eventually fall asleep at around 4 a.m.  Not due to lack of noise...
I awake in a hurry as a man is shouting.  He's loud!  He demands, "I want my share!  You said it was mine if I backed you up!"
Someone else bottoms in, "You promised me I could shoot someone..."  
Someone screams.  A pistol shot...  or is it?  Quietness.
A young man screams out.  Some one tells me that it was one of my close relations.  I'm upset and react, I tell the Wart Fairy that if it is, I'll drag her around the town and village by her hair and show them the Warts, and if he's dead I'll shoot them all.  Which would be exceedingly painful as I don't see straight.
Then like a dawn chorus, the Dreadful chime in. Apparently the one they were shouting at was the Irish Wart Fairy tonight, and she was playing the Princess who gave things away -   perhaps tonight its the Ball Gatherers stuff, and after that she was going to be the Queen of the Neverlands, (Iceland).  Hope the Icelanders know this.  They will be so pleased...  It's getting popular up there.  Sometimes the Ball Gatherer has a go, and at odd times its another one - a younger woman - who is being mourned as having been whipped to death outside...   Words fail me.  
Other folk are shouting outside.  They are cleaning up...  Somebody claims its the Army, however I can't see it.  A air thing lifts off...   Rich people games...
so disgusting...  Now Knobby's purpose is revealed he's actively looking for Naughty, so it can be punished...  69p for a bag of Oranges...