Leggings - The Barrack Street Boys – equivalent to the Cockney Kings & Queens...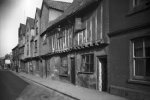 Sat, 17 Dec 2016
Leggings - The Barrack Street Boys – equivalent to the Cockney Kings & Queens...
A local Norwich resident suggested to me that another faction is also involved and so it is, in the taking of my once bought Norwich holdings – in and outside of the city, and including Dragon Hall.
These people – not only men, were locally known and feared as the Barrack St Boys. The Barracks were placed there to keep Norwich in order and the local housing was tiny and plentiful, and in the overcrowded dwellings rats were also known to co-exist. Norwich rats can be very large – and have been known to be as large as humans. Black as the ace of spades, and of a shiny fur coat. Eyes that gleam red in the dark.
The point I think I'm trying to make is that all the weird happenings have happened here before in Barrack St, where once the people became very different...
The boy who C.W once was used to come to Dragon Hall to visit us, although we didn't really want him, he would complain that he had no-where else to go, which was probably true as they took a leaf from the Romany's book of how to get things, join the family and prise a way open. The Romany's never killed anyone however... There are differences from the way that others do it. Now he sits in my hall as if he had bought it from me, and has the right to it.
Yesterday I got off the bus early, there was some mind-reader on the bus sounding off on the psychic plane, and I felt encroached upon. One of the Cockney Queen's was also sitting ahead of me, and although we are on speaking terms – I didn't want to interfere in what may have been her business... so I went off to visit Sainsbury's at Longwater.
It's a supermarket that's well loved and used by the local community, and when I worked at Anchor used to be a stop on the way home for a cream tea... So being of a cheerful mind, I had one, to keep up the tradition and went off to look around the shop. I came out with a bagful of clothes from the sale, rather good quality, general use clothing, and two items of grocery. I was happy.
I was unsure as to bus times as the bus has been late all day, due to the mess on Norwich streets on Friday morning. So I waited and waited... Another young lady joined me from McD's and she got an early bus to Dereham whilst I waited on for the slower village bus to trundle on by. I got out my new white t-shirt to wave at the Driver as the light dimmed quickly around me.
A car drew up in the Driveway to the Park, and a conversation could be overheard, it was weird stuff. Humans huh?
Male voice, deep, Okay do what we tell you, get out and stand with your back to her, exactly as we told you, and she'll get curious and come over...
Female voice, terrified. I don't want too. Please...
A loud smacking kiss is heard... A male voice, Get out! Do exactly what we told you to do!
An older lady leaves the car, nice camel coat, skirt, tights, presumably good shoes, short hair style, two carrier bags full of shopping, and a dog like Al Geary used to have, a staffordshire on a string...lead.
Being friendly, I speak, "Hello! Is there anything the matter?" I know it's immaterial anyway, and she ignores me entirely. It's not enough. Nothing would have been enough.
For a moment she looks at me... The car drives away. She looks so miserable. The dog walks sadly by her, and eventually she turns her back on me... The dog turns to face her leg and stands with his/her nose near too.
A black car noses into the driveway and waits. There is a dead silence. I don't know how to talk to someone's turned back or if I want too... I see the bus making it's way down and start to wave my white t-shirt at it. I'm wearing dark clothes, and the woman is obscuring the driver's view.
The bus slows down. I get on. I turn to see if she is coming. She doesn't. Whatever it was about, it's now over... The pick up, is now being made...