Leggings - the big blop!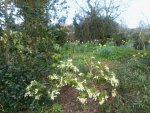 Wed, 06 Apr 2016
The Sabbath
"Are you ready now," shrieked Eoon Painsled sharply, "Because I got the silly woman to move over to the other side of the room so we can talk in peace."
Well that was true, I'd had a visit from some arrogant man, with wife and children in the background, explaining to me how nasty sexually he could be. He was quite specific. In a horrible kind of way. It didn't interest me.
I'm not into married men or dogs... I'm not sure which he was either. At least he was only running in circles on the grass. I suspect his wife had plenty of them little bags...
The other man sat down, "About so," he said, "Does she know how much trouble them other kids are in?"
"Can't say I care," Eoon said pulling on his dog collar, and black robes, "We got the whole congregation over tonight, for a big finish to broadcast later on."
Around 2pm, the diabolical mess started up with discordant singing and the acknowledgement of the laws of man and beast. It was well attended by the unfaithful, the riff-raff, the Bishop, and the McD's...
Some poor beasties were left lowing recognising their imminent fate in the lower field. With the food laid on, everyone felt comfortable attending.
One of the unfaithful came forward, dressed in her habit of brown, "I never realised it was so important to keep the sweet thing so pure." she murmured to Eoon. "She's been so clever being covered by the other girl.
Never being quite recognised for her bad deeds."
"Now, now," said Eoon, "No need to make such a fuss of her. She's been spotted twice so far I think on the bus. Her hair and her friends hair makes
them visible. One so dark auburn, and one so blonde..."
"They'll have a great career later on," agreed the acolyte eagerly, "I'll see they both work hard out on the streets... I really will. Lots of money for the churches, they'll bring in!"
"I didn't mean her to know I'd stolen her ruddy poem," sniffled the darker girl, "I didn't know she'd sniff it out!"
"Don't take on so!" advised Eoon, and he turned to his grim companion, "Stop scaring her. She won't ever need to do it if we get this right and completely discredit her. No one will ever believe she can write at all."
The girl turned her eyes up to him in adoration, "No, hardly any one at college thinks she can now...",
"Pity you couldn't bring them tiny cows," said Eoon calmly, "Now they would have been a treat for a king."
"So," said Eoon, "You got all the stuff from the cars places have you sorted out re her mate Al Geary's will? You do have it don't you?"
"Yes," remarked the other, "I've got it, no worries. She told him she didn't want any of his money though. Quite difficult to pull it away."
"Ah, now if this doesn't scare her away nothing will." said Eoon, "I can't wait to show her the films of those big girls she grew up with so scared they crawled across the floor when our girls told them too... Didn't you sweet thing, didn't you make them crawl?"
"Oh yes master, I did. The last one looked ever so funny crawling. I told her I'd eat her if she didn't. I told her that I knew him, I really did."
"I'd like to see the films," cackled the acolyte happily, "Show them to me, show them to me...."
Well thought Kitty sitting up, if this is a big finish, what a soft blop! Did it happen here, or did they just make a lot of noise here to cover over what was really going on elsewhere... or was all so the person in the aircraft could rush old Wartsy off to hospital, to make her all pure and sweeter than air again... Or perhaps its the plot to make someone else me again... to collect something else. Or was it more whisky. That does tend to bring the Scottish out...