Leggings: Dysentery, old stores from previous wars (hidden).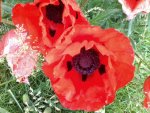 Wed, 22 Feb 2017
Leggings: Dysentery, old stores from previous wars (hidden).
It occurred to me recently that perhaps other things are linked, like the emergence of Army Great-coats which have been seen in the Norwich area. They were great for their time which was during and after the second world war. Always smart!
Grandfather* was at Dragon Hall one day, shortly after the war, he was sitting with a huge inventory of things that had been taken in after the war. He had a mind to conceal them, due to the diseases suffered in the trenches during the war, which he believed would spread if he let them go. He had a plan of bunkers and earth houses, etc., where he could feasibly store large amounts of things from the war fairly safely. He wasn't sure about what was dangerous and what was not. He lived in his own Great-coat most of the time. I rarely saw him without it on.
So he got them put safely into hiding, and told me he would leave it to me to decide if they should ever re-emerge. His feelings was that they should never again see the light of day. He's seen gangrene, dysentery, foot rot, shell shock, etc., etc...
Its safe to assume that whosoever has taken these wills to do themselves, without consulting or giving me the right to sort them out myself, has no conscience at all. The person involved does not care for people - doesn't mind if there is an epidemic of some old illness, which modern man is not able to survive against. We are not prepared to deal with such things.
Today in Norwich I have seen and smelt the evidence of my assertions. There appears to be a resurgence of illness's which haven't been seen in such strength in ages. The street people seem to be the first to suffer from them. Which makes me wonder if this is why suddenly younger and fitter men and women are on the street suffering, shaking, in fever, in sleeping bags – left to die alone. Some of them do not appear to be the usual sort to end up there.
Have they been working on some scheme to make money quickly by taking the stuff from these old hideaways of one of my relations from the field of the second world war?
Tonight is not much better than any other night, we've all had the noise. Apparently now they are trying to damage my head until I die, so that they can get on with bombing you all. Plus outside at the moment we have a ranting young woman who feels she can grab my books and make money out of me – especially if they do manage to kill me. Someone said it was her Dad who was paying out!
Such lovely people... Now it's 'she works for me!' No.
N.B:*Grandfather – possible Sandwich or Cornwall.
People do not deserve to die, because they needed a coat.