Leggings - Mid Brawling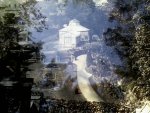 Thu, 23 Jun 2016
It's mid brawling in the western wind, and the courtyard is shed with sins.  Around the night the witches wait for deliveries by lorry or plane.  Around 3.30 their complaints are complicated by the arrival of a fake Lion with McD's origins originally from Earl Shilton, "I'm really from the Avenues!" he states whisky dripping from every pore.  "We'll drink a cup of kindness yet!"  It's become apparent that someone has shifted the Whisky & drugs delivery sideways down, to the house with angry disturbed neighbours beating the grounds.  They heard the name announced outside, and shouted loudly, "What a disgrace!"  "She doesn't live here, she lives down there!"  To which the pilot grimly replied, "The PM has ordered it sent here.  He says it's really her, so I can bring it here!  He says she's only the first Terri Prachet so we've nothing to fear!"
Too late!  A loud man's voice, "Turn it off, turn it off."  He was obiously in a panic.   "She can hear us, so can everyone else.  Soemone is megaphoning striaght into her flat!  If its one of them naturals," he said roughly, "Knock them on the head!  Get that transmitter off!"
The neighbours rioted, thinking it foolish, for such a thing to be said libellously against the PM and knowing the full truth, grinned...  Then a light stuck, "Is the PM scottish?"
"Aye!" the Pilot declared, thinking how English!  The witches outside grew slowly more furious.  They'd been waiting all night, whilst others waited inside.  A child came through, and shouted out, "It's for my Aunt Rosalind!"  To which I stirred and said, "I'm not your Aunt.  We're not related!"  
He grabbed his Mummy's hands and sobbed.  She bent down to him, I could see them clearly, a big woman and a small boy, with my eyes closed.
"She doesn't like us." she said,
"I want her to be  my Aunt!" he sobbed, "Or we're theiving Mummy and I don't like it!"
Then another child muttered loudly, "Arn't both the PM's scottish!"
The drunk Scots laughed, "Ours is a FM!"
A plane flew down, and asked to see me, the witches pushed forward a big girl, nicely dressed, about mid 30's, "Here she is!"
"That's not her!" a man exclaimed, "We know who she is, we know she isn't so big!"
Stirred by the loss of the nice things to have, the witches grew bolder, and stated quite thickly, "You see Bessini grows bigger and thinner, and as you know her facial expression can alter!"
The man not satisfied with such an explanation, shouted "Take off!" and the plane zoomed away quite quickly.
Less than an hour went past, with horrible complaints from both the inside, and the outside, except from the ones the Scots had blessed with Whisky and drugs!
Then a heliocopter was spotted.  Such excitement.  The family gathered in an orderly line up.  "Hello!" they cried, "We've waited all night!  We'll just take it in, for she is asleep!"
A man leaned out, his eyes very sharp.  He looked up and down the family line in disgust.  "I'm looking for Hitlers!" he told them at last.  "I'm not giving anything for I know it doesn't get to her."
The family line broke up fast.  They shuffled off sideways, children were last.  The heliocopter took off, and he leaned out again as he past the first runners.  "I'll be back for the Hitlers.  So tell them don't worry!"
After he went the witches gathered up their spilt brooms, and a few wizard's staffs and ran.  It appeared that worry was the least of their fears!  It 
was rumoured that the RingMaster was a master no more.  He'd fallen for the Ballgathers careful plan for forceful men to be made quieter.
On th ewy to work, someone upstairs had an accident....   and I ended up having a wash!  I really despice people who inflict marks on others.  I'm my own territory!
n.b.
***
 Additoinal':  seeral engine noises as things made flybys between 5:30 and 8  am....