Shrinkage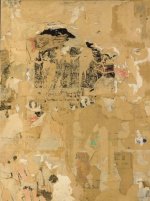 Tue, 12 Nov 2019
1 likes
Breaking the monotony of lifting boxes 
in a warehouse with fag breaks. Tea breaks. 
Joking with the girls on checkout. 
But it's breaking your fucking mind. 
Pulling and pushing pump trucks. 
Splinters from blue wooden pallets.
Reading endless lists of stock to pick.
 
Four floors of aisles and shelves 
stacked with biscuits, crisps, chocolates,
peanuts, cereals, sauces and sweets. 
It's no wonder there are so many 
fat fuckers in the world. 
Days of nothing and then home to a single room.
Filling a mug with Strongbow. Smoking a joint. 
Pouring hot water into a bowl 
of BBQ beef flavoured Super Noodles. 
Down to Fulham Broadway. Drinking ten pints 
with the boys and then doing shots with
a girl at the bar. Laughing at the metal band. 
"You wanna come back to mine?"  
Hailing a taxi you can't afford to 
your shag-palace in Colliers Wood.
She looks at the mattress on the floor.
"Don't you have a bed?" she says.
Followed by: "Your kitchen needs a clean." 
The sex is so bad she takes it 
that you've not done this before… 
You both pass out and come morning  
the two of you are absolutely hanging. 
"Can you walk me to the tube?" she asks. 
"It's that way," you reply, pointing at a bare wall. 
"Don't be a nob," she says. "I don't know the area."
Strangers walking in moody silence. 
Heads pounding. Eyes aching in the sunlight. 
You're worried about spunking-up 
all that money in the pub. 
You'll have to ponce off someone 
to make up a bit of the rent 
you're already way behind in paying.  
Clocking in. Pulling on the blue boiler suit. 
A so-called mate points at you and smiles, 
"Hey, did you cop-off with that bird?"
Sweating. Paranoid. 
Dropping a 12-pack of tomato ketchup.
Bottlenecks cracked and red sludge oozing out 
onto the metal studded floor.
You find a blue roll of tissue 
to wipe up the mess and you record 
the damage in the Shrinkage folder. 
 
The smell of cardboard 
makes you want to blow chunks 
and those warehousemen 
are getting on your nerves, 
laughing at nothing again – surrounded by idiots. 
("I take it you've not done this before?")
Push comes to shove when the Manager
catches you asleep on a shelf. 
You've made a cosy den on the top floor 
of the warehouse, hemmed-in 
by giant cardboard boxes of sanitary towels. 
Some cockwomble has grassed you up. 
You follow the Manager down the stairs
to his tiny office like a naughty schoolboy. 
He tells you that he doesn't like your attitude,
your friends,
your lifestyle,
the way you dress. 
And if you quit, it's the dole office 
and off to find another shit job.
And if you stay, it's more of this cunt 
and another day with a broken mind. 
"You got anything to say?" he asks. 
"I do, yeah," you reply. 
"Go on."
"Why's everything fucking blue?"
Shrinkage all over the shop. 
Back in your room. Pouring hot water 
into chicken flavoured Super Noodles
and unscrewing the lid  
on a bottle of scrumpy 
to take the edge off the hangover. 
Lying on the infamous mattress.
("Yeah, it was my first time and I was shit. What of it?") 
You know you'll have to stitch up the so-called mate 
you're renting from as you already owe too much. 
It hits you that you won't get dole money 
because you quit. The System of State 
doesn't approve of quitting little shites 
like you, full of ideas above their station. 
Worry about it later. Get some shut eye. 
Who cares about the future? 
Fuck the lot of them.  
Write it all off as Shrinkage.