A Guide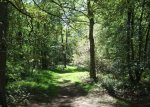 Wed, 21 May 2014
                        I cannot paint
What I then was.
                --Wordsworth, Tintern Abbey
Walking is such an integral part of my perception of the world that it's hard to point outside myself to identify people who contributed to making it so. My parents took me out for walks as a child, and writers like James Herriot, Colin Dann and Tolkien – who dealt with the outdoors, what lived in it, and how you would cross it – informed my thoughts as I read them again and again. But one particular schoolteacher also shaped my sense of the idea and aim of walking.
He was a very old-fashioned teacher – in the best sense: his vocation was teaching, he did it instinctively and he had no interest in what "the authorities" thought children should learn. He just wanted his pupils' understanding to grow. He did that for me, helping me grasp how the interactions of the present and past become visible in a landscape walked through.
It was my last year of junior school (Year 6 in current terminology) and one of those times when the edges of my world went galloping away over what I'd believed were fixed horizons. Much of that sense of discovery came from my teacher's insistence on getting us outside. This was mostly through games, football and especially cricket (which I loved despite being terrible at), but for me the transformative experiences were walking ones.
This was the time when health and safety regulations were starting to proliferate, so my class was lucky to be taken on the very last Saturday Hike. It seems incredible now that one teacher was willing to drive a minibus full of children out to Hanchurch Woods, a few miles from my school on his own.
I've written before about Hanchurch, and this was one of my formative encounters with the place. We had no sense of its history at first – woods were woods. I remember a sticky-hot day, the deep-green ranks of pine trees, a pile of rusted ordnance beside a wire fence among tussocks of stringy grass. He warned us to give this reddish heap a wide berth, but mentioned that it came from "the war", which we always associated then with his account of his father's experiences in a Japanese POW camp. I also remember the path, a pale brown line of crusted mud split by a narrow stream. The clear water had written the action of its current into its sandy bed.
There must have been continuous noise from all those children wandering about, but I remember none of it. Even the pine cone battle between two factions of the class, each using fortifications made from the husks of felled trees, has no sound. Only the heat, and the yellow light on the rusted shells and colouring the surface of the stream.
One day in the summer term, when we already knew that this was his, like ours, last few weeks at the school (he'd resigned ahead of the introduction of the compulsory national curriculum, which would have strangled his free-flowing approach), a friend and I knocked nervously on the staffroom door. My friend had caught a mouse at home and for some reason had brought it into school in a cardboard box. I can't remember why. Perhaps he just assumed our teacher would know what to do with it.
Why nervously, if we trusted him so much? He wielded absolute authority in the classroom, courtesy of a voice that could blast you like black magic. And of course bringing a mouse into school was not a normal thing to do.
The clearest memory I have of our teacher's face is of his beard, which had touches of white around the chin, and a smile. This bottom-up impression must be a reflection of the difference in our heights. On this occasion, he smiled.
It will seem insane what he did next – but this was the action of someone for whom the pre-regulation, self-governing world was not a place in which to take advantage, but to do exactly what was right. "Let's take him to where no one will bother him."
Our teacher sometimes told stories in school assembly. He'd written them himself, and their theme was always that you should be true to yourself. They never ended happily for the central characters because they had bowed before fashion or peer pressure. We were gripped by them, though I don't know how many of us held to that particular principle.
For him, the mouse had to be allowed to go out to where it belonged. And he had to be true to his vocation. We boys deserved to see that being true to yourself was possible despite everything. (Of course, I interpret, reflect, analyse, speculate.)
The three of us went out to his car in the shadow of the school's brick clock tower. The mouse had the front passenger seat and my friend and I were strapped in the back.
He could have released the mouse somewhere near the school. He could have taken it away and dealt with it as he pleased. It was his lunch hour, his free time. But he drove out to Hanchurch, and we walked along the stony paths (white stone, dusty, the grass along the verges stained pale) until the brambles and bracken grew thick. Here' we let the mouse go. I remember its back legs and tail vanishing into the leaf mould. I wouldn't call it a lesson in the primacy of nature, but in the value of all forms of life and ways of living. Even as we walked back to the car, I knew I would remember this.
He always encouraged my writing. His notes on my descriptive pieces were full of supportive comment. My best academic achievement ever may have been 20/20 for "An Old Man on an Upturned Boat", an exercise that played to my eye for detail, and which I structured around an imagined walk at dawn. The newspaper blowing in the hotel courtyard at the beginning and the grief-stricken eyes of the old man looking out to sea are vivid to me now, 25 years later. But what my teacher always aimed for was a reconciliation of my facility with words with the experienced world – something I still struggle with.
Nonetheless, he helped me achieve this aim in that year through a few days of adventure – the Scarborough trip. We had had at least two terms exposed to his authority and his inspiration, and other good teachers also came with us. But this trip was so perfectly attuned to my mind that it set me off on my first extended try at working with words.
It started as a thank-you letter to a great-aunt (is this too a thank-you letter?), but spiralled into a sprawling memoir of at least three or four long missives – and my handwriting has always been irritatingly spidery and small. I'm not claiming correspondence on the level of Keats, Hopkins or Hughes, but I do remember that this was the first time I sat writing until I ached.
Yes, we visited Jorvik Viking Centre. Yes, we sang cheery songs on the bus. Yes, we held a sandcastle competition on Scarborough beach. But two things defined the trip for me – the hike, and the hunt for fossils.
The walk – again I remember heat. Several of the children went all wobbly, and a good friend of mine carried their backpacks. Some kids went missing in a pine forest, and we waited in the light freckling through trees for an incredibly long time until they were found.
Also, on the spine of a hill we came across a Roman road. Its bricks, baked again by the heat, pushed their warmth and rough feel up through our boots. The surface was a dull, smoky red. Whenever I encountered such roads in my reading after that (Rosemary Sutcliffe), I thought of that colour, the parched grass, and the heather dropping away into valleys.
The fossils – the weather seems cold, misting with rain. I know I already had a collection of ancient shells at home, carefully packed and labelled by the mail order business they came from. Despite this, I was indiscriminate when I got down to the shingle beach of Robin Hood's Bay. No doubt now there are, or ought to be, restrictions on how many fossils can be removed, but back then I stuffed my pockets with any of the black slate pieces that had any kind of marking. This collection ended up unsorted in a cardboard box on my shelf, and sometimes I'd sift through it in my room, but I don't know what happened to it afterwards. I recall the sense of achievement though, that in just going up and down the beach I had brought so many species back from vanishing into the sea. The other collection, the ordered one, now sits on my daughter's shelves.
What was it like, collecting those bits of rock? The rain was light but persistent, and each stone reflected the white of the sky. The cliffs shone in the same way, though cracked and scored with deeper, blacker marks. I think we prised slates apart with our cold fingers, or dropped them in the hope of breaking them open. It was a consuming hunt, and I didn't notice the tiredness in my legs from all that walking and scrambling until later. There was a chilly wind on the climb back up to the coach, and we walked in a straggling line along a moorland road. The sky seemed immense, and the smell of the sea followed us.
That trip also gave me the first sense I can remember of mortality. Back at home I felt drained because I realised for the first time that this adventure would never happen again. I knew that even if I was one day as happy as I had been for that week in Yorkshire, it would not be quite the same happiness. That was all past.
If my teacher is not prominent in these particular memories, it's because he was the overwhelming figure in my life that year, ever present in my thoughts – and the Scarborough trip would not have happened in anything like the form it did without his guiding hand. I can't look back and say he planted the seeds of the person I would become, but I am grateful for the way he gave my sprouting consciousness something to grow into. It may be that as I bring up my daughter, with her attachment to "nature" and determination (from age four) to be a palaeontologist, that his influence is at work again through me, helping encourage another mind to reach out into the world.