Lucas (part 1/2)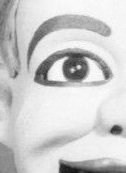 Sat, 22 Aug 2015
I'm half his size. He makes me sit on his lap, slips a hand under my shirt and begins fingering my arse. He should be in maximum security with his head inside a laundry machine while the weightlifters take turns to bugger him, but instead he has room full of people laughing themselves silly. Just because I'm made from wood.
I'm into a bit of verbal with a young woman in the front row. She's in tight denim shorts and a vest that barely covers her tits, and when I asked if she wanted a pole to dance around she told me she is a Pole … and a good catholic.
"Catholic," I say. "Where did you go to school? The Convent of Spearmint Rhino?"
She laughs. Everyone laughs.
"Is that what passes for a confirmation dress in Poland? I know you've got a lower standard of living, but surely you can wrap a bit more cloth around your tits when the priest is going on about why condoms are the work of Satan."
More laughs. She's going along with, rolling in a sozzled giggle onto her mate's shoulder.
"Where do you worship? The Church of the Holy Paedophile?"
I'm ready to run with it, but Craig shakes me and pushes his face into mine.
"Oi!" he says. "Drop the catholic stuff! You're not living in the sixteenth century!"
"So no jokes about the intellectual fuckwittery of transubstantiation?"
"No!"
"Alright. Let's get on with winding up the Moslems."
More laughs, including a big one from the Asian guys in the front row. The audience are young, trendy and most are half drunk. I can get away with murder on a night like this.
"So who's taking their little sisters on a camping trip in northern Iraq this summer?"
Craig's sitting in the dressing room, arse on one wooden chair, feet on another as he swigs at a bottle of Stella. He won't hang around in the bar because it's still open, and the last thing he wants is some drunken sot trying to play with me. One of the other comics is still here, a Brummie who had spun out a childhood trauma about seeing Grannie give Grandad a blowjob. He and Craig haven't said much to each other.
"Good 'un tonight," I say. "We had them falling off their seats."
"Yeah, until you threw in that line about FGM porn."
"It got a laugh."
"An embarrassed laugh, and it took the sting out of the rest of the set. Half of the audience weren't with us from there. Don't do that line again."
"What's wrong with you? You suddenly scared of offending people?"
"Shut up Lucas!"
I shut up. He's falling into one of his moods and know there's no point in arguing. Then I notice the Brummie look across the room, at Craig, not me, as if there's something weird going on.
It's the big one tonight. Big theatre, TV cameras, and Her Majesty sitting in the royal box. How the fuck did we get here? We've been on TV before, late night stand-up shows, but never anything for this type of audience. Someone decided they wanted a comedy act that was a bit edgy. Do they want edgy enough to draw blood? We're led through the warren, up the stairs to the side of the stage. The officious prick who passes for a stage manager tells us for the fourth time: "Seven minutes. No more."
"Yeah, we can tell the fucking time."
He glares at me, then at Craig.
"And none of that language."
"We know," says Craig. "Sorry."
We hear our intro, "Craig Creer and Lucas!" and the applause begins before we hit the stage. I scan the audience, struggle to make out any faces, but guess this lot are different to our usual crowd: older, more money, and likely to think that Michael bloody McIntyre is funny. He takes me centre stage, neither of us speak for a few seconds. I make a show of turning my head slowly one way, eyes on the dim figures out front, then the other, then tilt my head forward a little as I look straight ahead.
"Alright," I say. "Which one shall I kill?"
It gets a laugh, big enough to tell us that most of this lot have never seen us before; I did that line when we started out together.
"I don't want you kill any of them."
"Sorry, I mean, which one do you want to kill?"
Another laugh.
"What are you on about? They're our audience, I don't want to start bumping them off."
"Don't be a wuss. They've got expectations. I'm a ventriloquist's dummy. They know I'm evil."
A louder laugh.
"Don't be daft," Craig says. "They're expecting you to be cheeky, a little bit rude, not evil."
"But it's you."
"What do you mean it's me?"
"You've got that look. Michael Redgrave, Anthony Hopkins, now you."
More laughs, louder. Most of them know the movies. That's good.
"They can see you've got an unnatural relationship with me. You're on the way to a maximum security funny farm."
They keep laughing, it goes well but I've got a clock ticking in my head. We're halfway through our stint and I don't want to use it all up by showing off old material. There's a natural break in the dialogue, I'm meant to switch to ripping into Shoreditch hipsters, but it would be too easy with this audience and I'm itching to go further. I turn my head slowly to the left and upwards, towards the box. I can't see any faces clearly, but I know she's there.
"Enjoying yourself?" I ask.
It gets laughs. Comics have always squeezed a few out of being cheeky to her.
"No. Not as much fun as a Nuremburg Rally is it."
The next laugh is subdued, awkward.
"That must have been a pain, being brought up with all that 'Sieg Heiling!' but never get to see the Fuhrer in the flesh."
Silence. Death has appeared. Craig shakes me hard. I carry on.
"Must have been nice seeing those old photos again, remembering Uncle Edward talking about his Nazi mates. He stayed cosy with them even the governmenbt kicked him out for shacking up with that American tart."
Craig spits in my ear: "I told you that was off  limits!"
"And your mother seemed well up for it as well. I suppose she had a thing for leaders in uniform, especially if they wore jackboots and locked up communists."
Now there are nervous whispers out there. It's like there's a sudden outbreak of plague.
"Lucas!" Craig's voice is rising, enough for the mic to blast it to the back of the stalls. "Shut the fuck up!"
"I suppose it came with being German. The old master race stuff must have sounded good, gave you another reason to feel you were worth your salt, a cut above the rest of us."
Craig slaps a hand over my mouth. The lights go down, we look around in the dark and suddenly there are two bodies hauling us off stage.
Half an hour later we're having a barney in the back of a cab.
"I fucking told you this one was different! We had to play it safe!"
"They wanted edgy, they got edgy!"
"They got you throwing a stream of insults at the Queen!"
"So you've pissed off one theatre, one audience. There are plenty more out there!"
"You ignorant little fuck! You just don't get it!"
Craig turns away and looks out the window. I look forward, raise my head and see into the driver's mirror. For a moment his eyes are on mine. They look scared.
Seven months of sitting on our arses waiting for the phone to ring. A handful of places honoured the bookings we had before that night, but most dropped us like a plateful of shit and there's been nothing new. Nothing. Not even those pokey little clubs that pretend there's something radical and dangerous in taking the piss. Craig thinks they've got at us, leaned on the local councils and coppers to make noises about licences being taken away, prosecutions for whatever half arsed charge they can pluck out of their nasty minds. I keep telling him to tough it out, find a couple of friendly journalists to remind people he's still around, book a room at the Edinburgh Fringe, show everyone we're not scared. He keeps telling me that I haven't got a clue, the bank account's running dry and he's worried about the mortgage. I reckon he needs a kick up the arse.
"Stop feeling sorry for yourself."
"It's alright for you. You don't have to eat."
"I know, and you don't have to drink those double vodkas."
"Fuck off!"
A few days ago he moved me to the back room, on to the cabinet next to his writing desk. I half guessed what was coming, and the next day I heard him from the lounge, trying out new voices. It was something he did every now and then, even after I had made him sell off, dump or break up all those other dummies, the ones that wanted to share my place on the stage. He told me it was an exercise of the imagination, something that kept his creative juices flowing so we would work better together. I tolerated it on the grounds that he didn't allow another dummy into the flat.
"It only works with us Craig. We've got the chemistry. We create the sparks."
"I know Lucas … and sparks can be dangerous."
"That's us."
But he's spending too much time in there, and I'm hearing one of the voices more often. It sounds a bit nasal, middle aged, middle class. The following day I hear a couple of the lines.
"You want to have UKIP?"
"No! I said want to have a kip! I'm bored with this!"
"But it's democracy. Politics."
"Poll tax! I thought they got rid of that years ago."
Pathetic. Next time he comes into the room I have a word.
"Craig. That new voice. It's no good."
"Really?"
"And the lines were useless. Silly jokes for a silly voice. You know the score; get the voice right and the lines are right. That's when you get the killers."
 "If you say so."
"So when are we going to work up something new?"
"When we've got a booking."
I don't like the sound of that, but I let it go. As far as I know he's only doing voices, no other dummies in the flat.
Over the next few days I hear that same voice again, more than once, and feel suspicious. Then I'm proved right. His sister comes around with her pair of brats. I can hear little girls and squealing in the lounge and for the first time in weeks feel glad that I'm stuck out here. Children should be seen and not heard, or locked in a cupboard with a padlock on the door. There's movement in the hallway, a couple of minutes of quiet, then the toilet flushes and the bathroom door opens. A pair of little feet come into the room and she's there, the older of the two, eyeing me up as a source of amusement. Next thing I know I'm in her arms as she rushes back to the lounge and holds me up for everyone to see.
"Uncle Craig! Is this the naughty dummy? The one who got you into trouble?"
I don't hear the answer. I see him across the room, a dummy with big eyes, parted hair, dressed in a grey suit with a striped tie.
"Who's he?" I ask.
Both girls giggle.
"He's Arnold," says Craig.
"What's he doing here?"
"You've heard, we're trying things out."
The girls keep giggling and Craig's sister is grinning. They all think this is amusing.
"Craig! If you're …"
"Alright, not now!"
He takes me from the little girl and carries me back to the room. Before he sets me down I manage one question.
"Why have you kept him in there, out of my sight?"
"Because you're so bloody sensitive."
"Sensitive! I ….."
His back is turned and the door closed. Bastard!
It's late. He's been out, told me he was going for a drink with a couple of mates. I asked which ones. He said Tom and Gus. I've heard him mention a Tom before, never a Gus. It's dark outside, no noise in the street, and I hear the front door open. He goes into the lounge, I expect to hear the TV, but first it's voices.
"It went alright."
"Could have been better."
"You did well. First time out, you got plenty of laughs."
"And nobody tried to kill you."
He's talking to Arnold. They've done a gig! I wait until the lounge light goes out and he steps into the hallway.
"Oi! Craig!"
"What?"
He comes into the room.
"You've gone behind my back! You've done a gig with him, that fucking kid's puppet!"
"I was just trying something out. And what are you getting upset about? I've worked with other dummies before."
"Yeah, and you dumped all of them, because you knew they weren't in the same class as me."
"I know, but that never stopped me experimenting."
"You like experiments, here's one. See what happens when you spray Arnold with lighter fluid and drop a light match on him."
"That's enough."
He closes the door.
It happens again the following week, then again two days later, but he keeps quiet and doesn't come into the room. The third time he gets home at four in the morning. I don't hear voices but I see him pad through the hallway on his way to the bathroom.
"Where have you been this time?"
"Liverpool."
"You've done a gig in Liverpool! I bet little Arnold didn't get one laugh out of that lot."
"They liked us."
I sit fuming while he goes to the bathroom. But then I stifle it, realise that I've got to play it more carefully. When he steps outside I shout again.
"So when are we going onstage again? I don't mind sharing a set with Arnold. I've done it with others."
He looks at me for a moment, suspicious, then goes to the bedroom.