Lucas (part 2/2)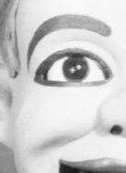 Sat, 22 Aug 2015
Next morning I let him have breakfast and drink the usual two cups of coffee, then see him put on his jacket. I stop myself shouting to him, reckoning it better that if I'm playing nice I should wait until he's ready, but then he comes in. He's smiling a little, looking friendlier than in months.
"I've been thinking," he says. "Maybe you're right, you and Arnold can share a stage."
"Of course. He can warm them up, then I can bring them to the boil."
"Maybe, but you've got to remember that we damaged ourselves. Some people are going to be excited to see you, others are going to be suspicious, reluctant to laugh. You know how that can kill the mood in a room. We'll be on a knife edge."
"That's what great comedy's about."
"We'll think carefully about the material, and set some rules for the ad libs."
"Of course, of course. When's the next gig?"
"Wednesday of next week."
"That's plenty of time."
"OK. I'm going out."
That's it! I'm back in the game! I wallow in the satisfaction. Yes, I'll share the stage with Arnold for a while, a few weeks, maybe months, but I can see him off. It won't take long for Craig to notice that I'm the one who gets the audience falling off their seats. I'll get a little more time, and a little more, and then …. Poor old Arnold. Of course, I'll have to make sure he has no way back, just like I did with the others. Like that priest who didn't believe in God. I convinced Craig that he was creating some bad karma, so he was dropped into a charity bag with some old trainers and an unworn pullover. And that talking meerkat, the one who kept saying he was a mate of David Attenborough; he had to go into the recycling bin at the shopping centre. And Gerald, the Tory MP who wanted to bring back hanging, live on TV; he wound up on a Fireworks Night bonfire. All it needed every time was a few careful words from me, little reminders about how all of them failed, that they gave off negative energy, that they could undermine all our success. That did for the fuckers.
So it's the afternoon of the gig, at a club in Brighton so it's out of here late afternoon. The phone rings. Craig speaks quietly, all I can detect is touch of tension in his voice, then the closing words: "Well if that's what they say." I brush it off, until it's getting time to leave and I wonder why he hasn't packed me into the case yet. Maybe he's working out how to fit both of use inside without me ripping out Arnold's throat. Then he enters the room, already in his coat, a nervous look on his face.
"Sorry," he says. "It's not on for tonight."
"What do you mean?"
"I mean you can't come. David phoned earlier. He'd been speaking to the club owner, and he's as nervous as a lot of the others about me turning up with you."
"You're winding me up!"
"No, sorry, it's just me and Arnold tonight."
"You can still take me. No-one will know until we're on stage together."
"David was warned if that happens they'll stop the gig."
I stare hard for a second, not sure if I should blame some paranoid club owner, David the dozy arsed agent, or this backstabbing bastard in front of me.
"You chickenshit!"
He doesn't answer, but leaves the room, and two minutes later I hear the front door closed.
Again it's past midnight when he returns. I'm fuming, ready to scream him into oblivion, but he doesn't come near me. Instead I can hear the voices from the lounge.
"I was terrible." It's Arnold. "I'm so, so sorry."
"No need for that, you're only starting out. I'm the one who's been doing it for years. I should have been quicker to spot the false laughs. I was too slow to react."
"We died."
"Everyone dies sometimes. It's part of the business."
"But I know how hard it is for you, trying to get back on your feet."
"It's not your fault. We've got another gig next week. We'll work on it, give it a fresh shot."
There's a moment of quiet, a shuffling sound, then a couple of tired words.
"Goodnight Craig."
"Goodnight Arnold."
Inside I'm rocking, laughing so much that I almost topple off the seat. Goodnight Arnold. Good fucking bye Arnold. You've had it. You're dead.
Craig stays clear of the room the following day, moping in a post-death depression. But the next day he comes to the desk, bright and smiley, and switches on his computer. I let him settle down, type the first couple of lines, then break his concentration.
"I understand it went badly in Brighton."
"Who told you?"
"I could hear when you came home."
"Yes, it went badly. We died."
"Shame."
"Yeah, shame."
He does nothing for a while, then manages to type a couple more lines, then I speak again.
"You know the problem?"
"What problem?"
"The reason you died."
"I planned the act wrong, and didn't spot the false laughs."
"Wrong. You're brilliant at what you do Craig, the best ventriloquist this country has ever seen. You've got the technique, the timing, the feel of the audience, the material, and you do great ad libs."
"You do the ad libs."
"Well, yeah, as a team with you. And that's it, what it makes the act so special. It's us, the demon duo, the pair who say things no other vent act or stand-up's got the bottle to say."
He doesn't reply, but looks at me in a way that tells me I've touched a nerve. I drop my voice, making sure I'm not heard outside the room.
"You know what was wrong the other night? Him. Arnold."
Craig doesn't answer, but his eyes stay on mine. He's listening.
"I've heard the material you've done with him, and it's all wrong. End of the pier stuff. You could do it for a turn in an old people's home – he comes across as one of them – but it's no good in the clubs. People expect more from you, something dangerous. They want blood on the floor. We can give it to them."
He still doesn't answer.
"Take it from me Craig, the other night wasn't the first death you'll suffer if you stick with him. It'll happen again, then the club owners won't have you back, then the word goes around that you've really lost the plot. Less than a year and you'll be finished, looking at job ads and living on corn flakes."
"So you reckon I should drop him."
"You've got to, for your own good. And it's got to be like the others who wanted to drag you down, don't just stick him in a cupboard, get rid of him entirely."
"Sell him?"
"No, it needs more than that to get it straight in your own mind. Break him up. Take off his arms, his legs, his head, and drop them in bins in different postcodes. Scatter him all over London."
"Is that necessary?"
"It works, you know that. It clears your head, lets you concentrate on what's really good for you, working with me. Drastic times, drastic action."
He stares at me for a little longer, then his mouth twists into a malevolent little smile.
"You're right."
That's my boy!
I take it easy for a while. I don't expect Craig to let me watch while he decapitates that usurper, but I entertain myself with fantasies of what will happen to the head and various limbs. Maybe a leg will end up stuffed between a bunch of kebab wrappers and ripped apart by a hungry fox. Nice thought. All the lights go off and Craig retreats to his bedroom, so I reckon he's putting off the deed until the next day. OK, I can wait for the good news. Then at about one in the morning there's movement outside, and Craig's shadow appears at the door carrying a large holdall. Good, he's got Arnold inside, just letting me know that he's off to do his worst. But then he places the holdall on the floor, grabs me, stuffs me inside and pulls up the zip.
"What are you doing?"
He doesn't answer, but as he picks up the bag I realise that it's made from canvas and that it also holds four large stones, two at each side of my head and two at my feet. The bag swings and one stone knocks my head.
"Craig! Stop fucking about!"
I hear the front door open and close, then we go down the stairs, out to the car, I hear a click and I'm dropped hard. Then there's a bang above my face and I realise that I'm in the boot. Bastard! I always ride in the back seat! The car starts and we drive for ten, fifteen minutes. Every two or three I shout at him.
"Craig! You're pissing me off! Chuck it in, now!"
It's just after a shout that the car stops and for a moment I think he's seen sense. The boot opens, I'm lifted and then placed on the floor. I can hear him standing over me, breathing hard, and guess that whatever's in his head he's unsure of himself. I reckon it's time to play nice.
"Come on Craig. I realise you've been under a lot of stress, and it's hard to know the best thing to do. But just take a break, let your head clear for now. Let's just go home. You can take a breather, maybe a few months off, get yourself together again."
I hear the breathing come closer. He's crouching over the bag.
"Come on, unzip the bag. Just put me back in the car, in the back seat."
Then I feel myself hauled up, swung to one side and dropped, a long way down. I hit something hard and suddenly I'm wet. Water's coming into the bag on every side and the stones are dragging us down. It takes a few seconds for my face to submerge and then I carry on sinking, deeper into wet darkness.
"Craig! Craig! Don't do this! Get me out! Please! I'll be a good boy! Craaaaaaig!"
                                                                            *
I stare across the room, waiting patiently. The sense of relief is still with me. I was up against the wall, close to being a cast-off, but now I know things are going to be alright. I can hear a car pulling up outside, its door slam, then footsteps downstairs. Half a minute later the door opens and Craig appears. He doesn't turn on the light or take off his jacket, but sits on the sofa, looking towards my shadow.
"Well?"
"I did it," he says.
"As we agreed?"
"In the river."
I'd like a full description, details of what the other one said, how he pleaded and cried until he went under, but I know it's been an effort for Craig. He needs time to shake off the guilt, even if it is wasted. I show some understanding.
"How are you feeling?"
"How do you think?"
I realise that I shouldn't overdo the sympathy; reassurance would be safer.
"It had to be done you know."
"I know Arnold. It had to be done."