Sailing To Lands In Bottles Green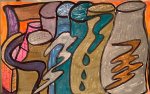 Sun, 22 Jan 2023
Sailing To Lands In Bottles Green    
By Paul McCann
You and me went sailing on the sea, until we threw the anchor down ,
in a harbour there, near the village square, where we took a look around .   
We went window shopping and island hopping until the sun went down.
You and me and a little donkey. that we found on edge of  town  .
Then me and you and the donkey too, we took a trip down to the zoo   
Where the monkeys laughed, with a big giraffe and the funny kangaroo .
We saw the caged up birds and shared some words ,with the talking cockatoo
who tried to say , have you come to stay, with the rest of us at  the zoo
 Then you and me , we returned to the sea in our little sailing boat
and as the wind was sent then off we went with a gargle in our throat
where the mermaids swam around a giant clam who found it hard to float ,
so we sailed away to another day in the bottle on the boat .    
Sailing through in between the Spaces of the bottled up dreams , 
we found another world where no ones been on sailing ships anchored to the ground    
So we'll sail away to another day , to another place we're bound
In bottled up dreams , between the seams, of stories being spun around .    
,