The Songwriter - Chapeter 14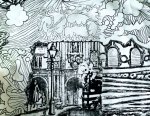 Wed, 12 Feb 2020
The Songwriter
Chapter 14
A Hard Call
It was October 1991 and I got off the plane in Sydney . Life had a new meaning for me now and every day was a bonus . I felt lucky to be alive
 I went to pick up my suitcase in the baggage collection area at Mascot airport I could hardly believe what I saw . There was a big yellow ribbon tied around my suitcase as t came down towards me on the moving carousel .
To this day I have no idea who was responsible for that .
After I collected my suitcase I walked off to a city I had left behind . With the  arrivals area now in view , I had a feeling that I was in a new place, somewhere where I'd never been before . Part of me felt like a stranger on the shore . Just me and my suitcase and my six string guitar , but I knew it wouldn't take me long to feel at home again .
Over the past few years I had become experienced at fitting in , adapting to where ever I had ended up .
As I walked out with my suitcase and guitar I was so glad to see my sister Geraldine standing with my friend Joe .
Now I didn't feel like a stranger anymore . It was good to be home in Sydney . As we made out way back to Merrylands in Geraldine's car , there were some new songs on the radio stations. The place had changed since I was last there . Now the traffic motored through underground tunnels from the city to the suburbs . There were new traffic lights and roundabouts I had never known before . I notices new cars, along the way . Sydney had a  faster pace of life now with new developments happening everywhere I looked . It was almost like the city was trying to catch up on a train that had already left before tomorrow came. .
We arrived at Geraldine's flat in Merrylands and she invited me to stay for a few days until I got settled .
I carried my bags to her door and my bag of memories and new songs over my shoulder .
I thanked Joe for his help while I was in London and I caught up with all the business of his new wife and children . Then I thought maybe there's something I had never considered before .  I had always regarded my songs as my little children . Many of them had been suffered for in their coming into the world . Then the thought about life on another stage had dawned on me and I put it in the top drawer of my memory banks .
After dinner we all called it a day. I had a shower went into the spare room and unpacked a few things before going asleep .
Next day I started looking for a place of my own to stay . In the morning newspaper there was a flat advertised in Ashfield . It was affordable and  had a good address . Far enough away from the city but still accessible in ten minutes by train .  I checked the flat out and paid the deposit and bond .
I moved in that week and soon things began to happen for me and some of my songs .
Recognition came into my life like a bus with no brakes . I had propelled myself headlong into performing my songs at some regular venues around Sydney and the Southern Highlands of New South Wales .
Every Thursday I had a spot at the Bowral Folk Club in a pub they tagged The Syringe Inn because if the number of heroin users who frequented the place. My songs were well received by a sympathetic audience .
There were many other local songwriters who performed there each Thursday and I got to know many of those people . Dave Debs had a few albums already released , Robert Harpley had a small recording studio that he offered to help me record some of my songs . Steve Quirk a local radio personality gave me some great encouragement with my work . Two girls who called themselves  "Serendipity" were releasing their own material as was Mick Beville , Jo Dragon drums and a cascade of other artist who found there their way to the folk club from different folk festivals around the country .
I was booked as one of the artists to play live at a Saint Patricks Day event at the Hyde Park Barracks in Sydney . I began pushing myself into pubs and cafes to share my songs and found a network of connections in the process.
.
I was invited as a guest on the ABC National radio to talk about my time busking around the UK . Other radio stations stared to play my songs that I had sent them on cassettes that had been crudely recorded on a built in mic on a street ghetto blaster . I was amazed that these radio networks gave me some airtime but very grateful of what they did .
Everything was going ok and I was very happy at this time .
I found people were interested in my work . I was getting applause and great feedback . At the venues I played, there were an assortment of people in the audience . Young and old ,  tourists and journalists, musos and poets and local identities .
I was contacted by a few band members to put music to their lyrics which I did and those songs were recorded on their CD's , which was nice to hear .
Suddenly as all this was happening another call came into my life . The ve juices began to flow something else come into my life
It was something I had filed away in the top drawer of my memory box .
One night I was out with Robert a fellow songwriter . We were looking at doing a gig in a bush music club . That night there was a bush dance on and out of the blue I met a girl . Her name was Mary . She asked me for a dance and we started talking . Next thing we began to go on regular dates .
I realised this relationship was getting serious and the question of settling down arose . Commitment to someone in marriage is a big decision for anyone  . I thought about the sacrifice and surrender of many things in my life before I proposed to her . I knew that if she accepted my proposal of marriage that everything in my life would change  .
One sunny afternoon by the peaceful waters of Lake Entrance I took Mary on a picnic and asked her to Marry me and she accepted .
From that day I started looking for work and soon secured a spray painters position for a furniture manufacturer .I worked hard and saved for the wedding day . The windows of time that I once had for song writing  were closing .
.After Mary and I were married little babies started to arrive  ,one after the other . It was always around Christmas when they were born .
I remember talking to our family doctor about that issue and asked him if it had anything to do with the Guinness I had on St Patricks day or could it be all the Irish music that was being played that brought babies nine months later .
He had a look through his medical book and said ,
"I think it's the Guinness "
After the third child,  Patrick was born just before Christmas 1995 .
I stopped drinking Guinness and the following year no baby came .
So says I to myself , the doctor was right .
In 1996  Peter Kearney a local singer songwriter from the Southern Highlands  was putting together a show to go on tour . It was a story , set in song about the life of St Francis of Assisi . The folk oratorio was called "Good Morning- Good People" and I was invited to be part of that show . Mary didn't seem to mind and so I started to do some rehearsals .
That year we had our second miscarriage . I remember writing a poem called "A Hard Call" that dealt with the loss in miscarriage . The poem was chosen by Penguin Book's to be part of  Adrienne Ryan's forthcoming book , entitled  "A Silent Rose: .
Once again out of suffering many things are created .
Adrienne Ryan was at that time the of Police Commissioner Peter Ryan .
She wrote to thank me for the poem which appeared in her book .
A Hard Call -by Paul McCann
Day after day the same question keeps running through my head.
Is this child we're expecting alive or is this child dead?
The destiny of an unknown answer is yet to come.
It's a hard call to take when the hope of this life goes numb.
Like a ship tossed at sea I'm calm in the eye of a storm.
As miscarriage came God reclaimed the life of our unborn.
Grief for life in the womb and tomb, brief the time it was there.
Both of us felt emptiness like life in the womb stripped bare.
We had gone and performed Good Morning Good People in New South Wales and in the  Australian Capital Territory . The album was recorded and had some great reviews .
I  thought about my own Gospel Rock Opera I had written years ago . I had the songs and a script that needed to be developed .  The idea was to present the last three days of Jesus's life set forward into present time . I only wished I had the time and expertise to put that all together . Maybe another thing for one of the drawers in my memory banks .
Saint Patricks Day arrived .  I forgot myself and had another Guinness and guess what, a baby girl called Tara was born just after the Christmas of 1997 .
Just after she was delivered I bathed her in a small room adjacent to the delivery ward . I wrapped her up in a soft towel and presented her to Mary.
Now we had four beautiful children who were all under five years of age .
It was at this time when the creative juices began to were flow , fast and furious as the windows of time opened up again . The children were inspiring many new songs .
I still remember Tara the youngest child who always arrived with cooking pots and a wooden spoon to provide the  percussion when I playe my songs in the house .Tara always clapped and cheered  like an audience . Over the years Tara always encouraged me with my song writing .
There were some night's Mary would get out of bed and find me in the back room, writing away . She asked me to put it away and come back to bed .
It was a hard call to do that sort of thing nut there is the issue of commitment in a marriage . It takes sacrifice and hard work and so day after day, night after night as the same thoughts kept rushing through my head ,  I learnt not to answer the phone . I put down the pen and went to bed .
Being a slave to ones talents is a hard thing but it's better to the master and not the slave instead .    
f was kept busy in five jobs at this time trying to provide income for the family . Mary had gone to bed with severe depression and I did my best to stay afloat in a stormy sea of life . I had started producing a weekly radio show called Craic With Mc on Highland fm radio . I writing a series of articles for a Belfast magazine called Horizon . I was also working as a casual shop assistant in a hardware shop in Moss Vale and had a grounds persons job at Mittagong Public school . Twice a week I worked with the young lads as soccer coach for Moss Vale Soccer club . I was getting the odd job painting houses and fences which helped provide more income for the family . Times were hard but life went on . I did the best I could for the family I loved .
I began studied in nursing in 2006 and the following year had a certificate three qualification . I started a job as a community nurse around the local district helping those in need of care .
My young kids were growing fast and it was in 2008 something special had happened .Two musicians made contact with me from the U.S.A. .
Wendy and Robert O'Hearn had found my song "Lost Sons of Erin"
The arranged it and recorded it and entered it in the 2008 Billboard Song competition where it won first prize in the world category .
The asked if I could come over to America for the presentation of the award .
That was a very proud moment for me .
Two people who I had never met in my life before had arranged and recorded my song Lost Sons of Erin and it took out the major prize .
The song was placed on an album of the called Sonicarious which received great reviews ,
That inspired me so much as at that time in my life , things were very difficult .
In 2009 I came home from work and Mary asked me to sit down ,
I could tell something was coming .
"I don't want to be in your life anymore " were the words she said to me.
I tried to talk to her but she had made up her mind . She even said that she had a new place to live and they were moving in there at the end of the week.
That day it felt like I had died . My life had come to an end . I was lost and lived alone in a car for a while . A fellow songwriter Jack McCracken advised me to ground myself and just keep doing the everyday normal things .
That was the best advice anybody has ever given to me .
I started to write again and play my guitar again and I found who I was again .
After Mary divorced me and had the marriage annulled I had a steady job in a nursing home and lived in a home in Bundanoon . Tara spent one week with me and the next with her Mother .
I just worked away , everyday and kept on writing songs . That was my strength and my saving grace .
I had given 20 of the best years of my life to a woman who walked away from m and I wasn't wanting looking for or didn't want another relationship in my life  however sometimes life things don't happen the way you want them to be and a beautiful woman walked into my life like a radiant light in empty place .
I fell in love with Charity in an instant .
Charity was like a gift from God and after a while she and her three children came to live with me at Bundanoon  .
Tara was in and out of mental health units now every week or so .
Her self harming  was a big concern and many times I almost lost hermy
She was starting to  have some health issues . One thing after the other went wrong for Tara .
She loved horses and I took her horse riding everyday . A man there had abused her and he went to prison for three years .
Tara became withdrawn and anorexic .She started to have daily pseudo seizures and every hospital where she went for treatment had no answer to why and how to prevent them from happening .
.Over the next few years Tara became quite unwell and often unsuccessfully tried  to suicide .
I had found her a number of times and rang the emergency number . Paramedics frequently were always able to revive her.
I sat at her 20th birthday in a mental health unit and she spoke with her about life and everything she was going through . Tara was extremely talent with photography and we had both worked d together on some short films .
One of them entitled "Change" had been short listed in the Wollongong Short Film Competiton .
I really wished that had won for her as on the 1st March Tara walked in front of a train at Kogarah Railway station and that day she was gone .
The best way I could describe how I felt was to write a song called
"She Left Me At The Station '
A fellow song writer Dan helped me to record it .
She Left At The Station 
  By Paul McCann  .
She left me down at the railway station ,
like a wave from some distant relation ,
in that moment she was gone
and the night had found the dawn
in the morning light with a thousand explanations .
We talked about what went wrong the other day
and then she decided to go her own way ,
ooh without a kiss goodbye ,
it made me want to cry ,
it's too late now because she's up and gone away .
Ooh oh , she left me at the station
with an emptiness in my heart
that I never knew until we fell apart ,
it was a secret she had hid
of something someone had did ,
years before we ever had a chance to start .
The last rose of summer had  gone
the first leaves of autumn fell on the lawn ,
when things in life can suddenly change
we need to adapt and rearrange ,
somehow we find the strength to carry on  .
.
Ooh oh , she left me at the station
with an emptiness in my heart
that I never knew existed until we fell apart ,
it was a secret she had hid
of something someone had did ,
years before we ever had a chance to start .
End Of Chapter 14
https://www.abctales.com/story/mcscraic/songwriter-chapter-15
Link to Chapter 15
.